Contact with us and get more recommendation from our engineer to meet your requirements.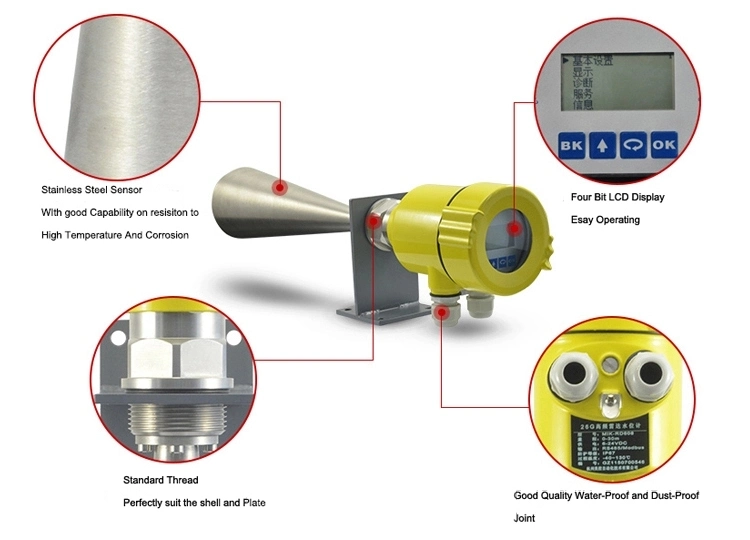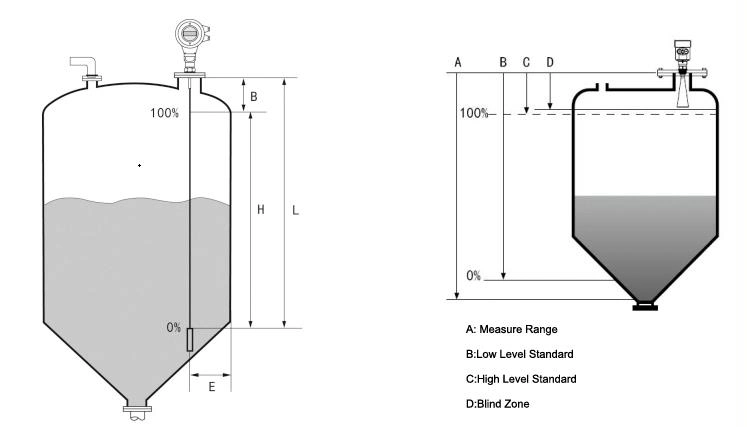 Guided wave radar is a measuring instrument based on the principle of time travel. The radar wave runs at the speed of light, and the operating time can be converted into a level signal through electronic components. The probe sends out high frequency pulses and propagates along the cable or rod probe.
When the pulse meets the surface of the matenal, it is reflected back and received by the receiver in the instrument, and the distance signal is converted into the level signal.The reflected pulse signal is transmitted along the cable or rod probe to the electronic circuit of the instrument, which is processed by the microprocessor to identify the echo generated by the microwave pulse on the surface of the material.
Code
YTT-RD-701
YTT-RD-702
YTT-RD-703
YTT-RD-704
YTT-RD-705
Application
Liqiud and
Solid Powder
Corrosive Liquid
Solid Powder
Low permittivity
liquid
Liquid
in High Pressure Tank
Measure Range
30m
20m
30m
6m
15m
Frequency
500MHz-1.8GHz
500MHz-1.8GHz
500MHz-1.8GHz
500MHz-1.8GHz
500MHz-1.8GHz
Antenna
Cable or Rod
PTFE Covered
Double Cable
Rod
Cable or Rod
Cable or Rod
Accuracy
±10mm
±10mm
±10mm
±5mm
±10mm
Working
Temperature
(-40~250)ºC
(-40~200)ºC
(-40~150)ºC
(-40~250)ºC
(-40~400)ºC
Working
Pressure
(-0.1~4)MPa
(-0.1~0.3)MPa
(-0.1~4)MPa
(-0.1~4)MPa
(-0.1~40)MPa
Signal Output
(4~20)mA/HART
(4~20)mA/HART
(4~20)mA/HART
(4~20)mA/HART
(4~20)mA/HART
Field Display
Four Bit LCD,
Four Bit LCD,
Four Bit LCD,
Four Bit LCD,
Four Bit LCD,
Programmable
Programmable
Programmable
Programmable
Programmable
Power Supply
Two Wire(DC24V)
Two Wire(DC24V)
Two Wire(DC24V)
Two Wire(DC24V)
Two Wire(DC24V)
Four Wire
(DC24V/AC220V)
Four Wire
(DC24V/AC220V)
Four Wire
(DC24V/AC220V)
Four Wire
(DC24V/AC220V)
Four Wire
(DC24V/AC220V)
Shell Material
Aluminum/Plastic
Aluminum/Plastic
Aluminum/Plastic
Aluminum/Plastic
Aluminum/Plastic
Process
Connection
Thread/Flange
Thread/Flange
Thread/Flange
Thread/Flange
Thread/Flange
Explosion-Proof
Grade
ExiaIICT6
ExiaIICT6
ExiaIICT6
ExiaIICT6
ExiaIICT6
Protective
Grade
IP67
IP67
IP67
IP67
IP67