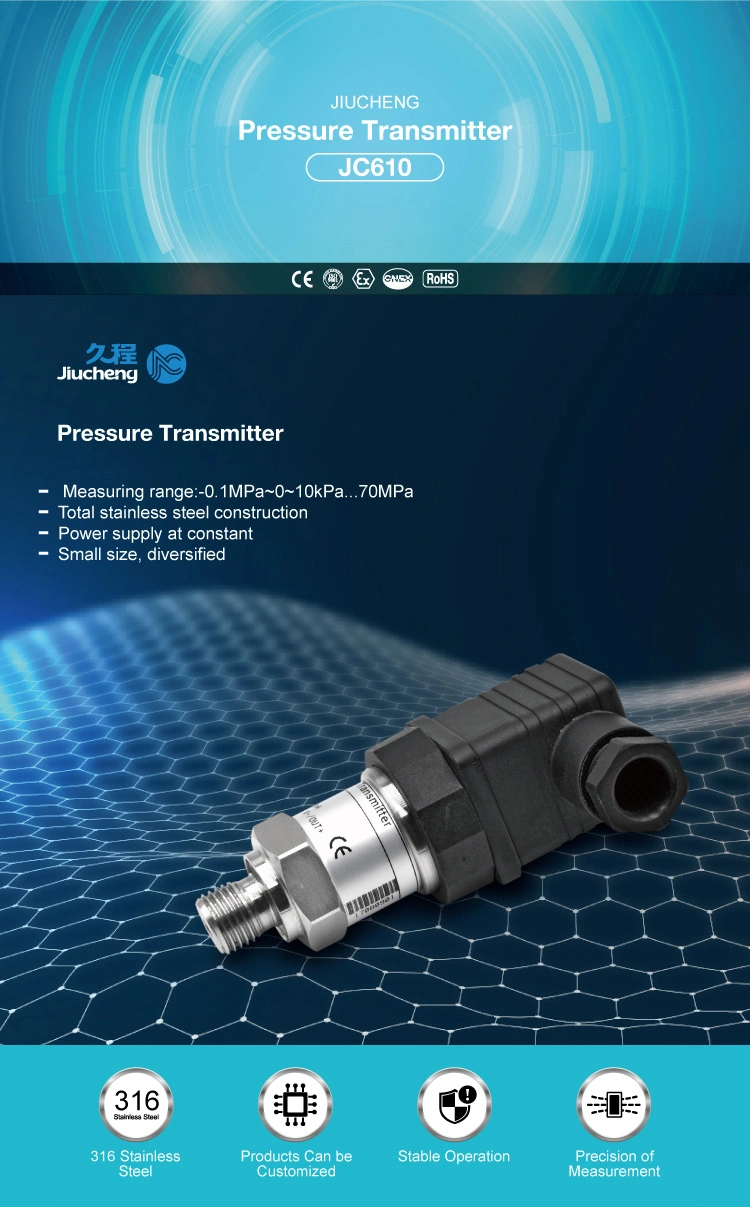 JC610-07 Oil Pipe Pressure Sensor Overview:
JC610-07 oil pipe pressure sensor is encapsulated in a stainless steel case through assembly and commissioning by use of advanced foreign silicon piezoresistive sensitive elements. Both the case and interface materials are made of stainless steel. The medium is of good compatibility, with stable & reliable performance and high accuracy. The gasket is sealed on the end face.
Jc610-07 Oil Pipe Pressure Sensor Features:
* Measuring range:-0.1MPa~0~10kPa...70MPa
* Total stainless steel construction
* Standard thread pressure-leading measuring method
* Power supply at constant-current and -voltage source
* Laser resistance-trimming compensation zero and full-scale temperature performance
* Using solid-state piezoresistive pressure sensor, with high reliability and high accuracy.
* Small size, diversified and optional structural forms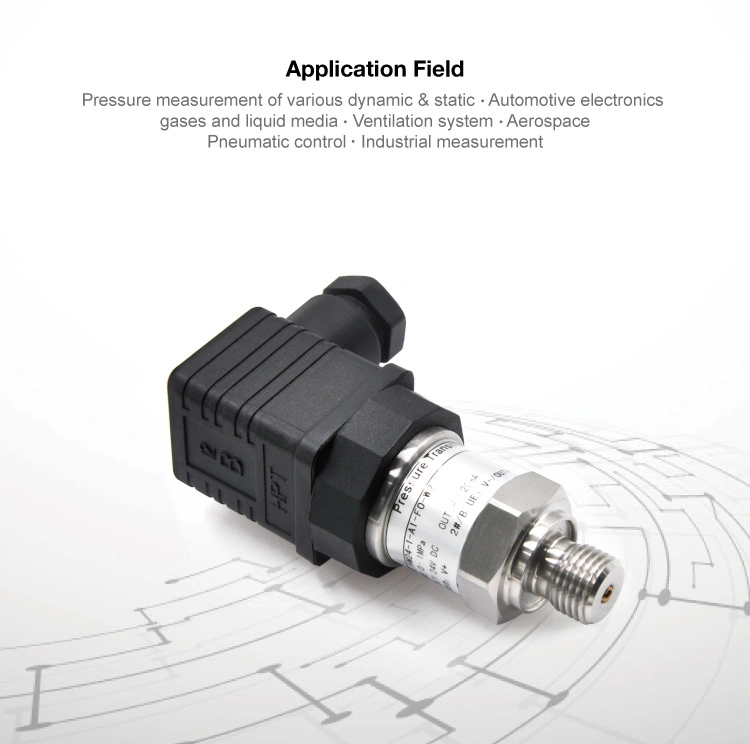 JC610-07 Oil Pipe Pressure Sensor Application:
* Pressure measurement of various dynamic & static
* Automotive electronics gases and liquid media
* Ventilation system
* Aerospace
* Pneumatic control
* Industrial measurement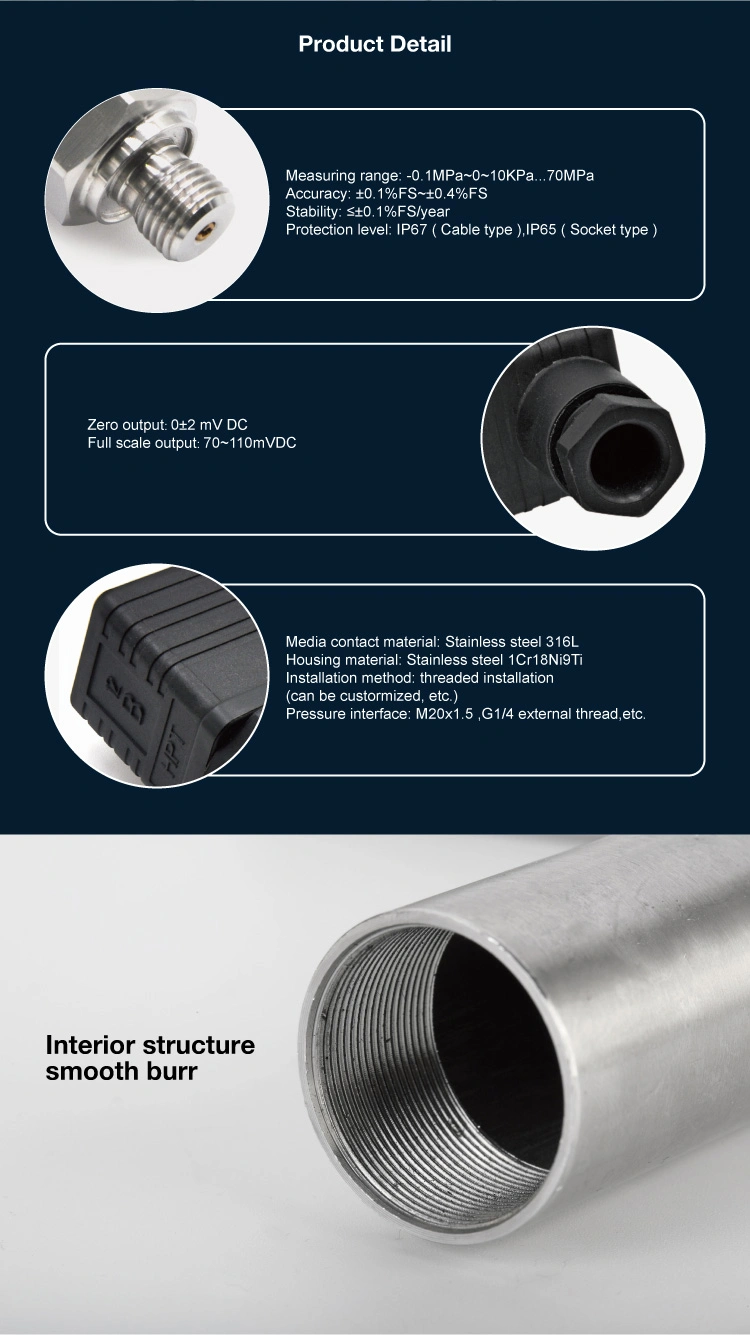 Technical Parameters:
Measuring range
-0.1MPa~0~10KPa...70MPa
Overload capacity
Two times of the measuring scale for overpressure
Power supply
1.5mA DC
10~24V DC constant voltage
Zero output
0±2 mV DC
0±2 mV DC
Full scale output
70~110mVDC
70~110mV DC
Measuring Media
The gas or liquid compatible with 316 stainless steel
Overall accuracy (Linearity, repeatability
and hysteresis)
±0.1%FS
±0.25%FS
±0.4%FS
Long-term stability
≤±0.1%FS/year
Operating temperature
-40~85ºC
Compensation temperature
-10~50ºC
Temperature performance
Zero temperature coefficient: ±0.02%FS/ºC ( Typical value ); ±0.04%FS/ºC ( Maximum value )
Sensitivity temperature coefficient: ±0.02%FS/ºC ( Typical value ); ±0.04%FS/ºC ( Maximum value )
Thermal hysteresis
±0.1%FS/ºC ( Typical value )
Materials
Enclosure: Stainless steel 1Cr18Ni9T
Membrane: Stainless steel 316L
Cable: polyvinyl chloride cable
Sealing:Fluorine rubber sealing ring
Electrical connection
PG7 cable connection
Response Time(10%~90%)
≤1 ms
Resolution
Infinitely small ( theoretic ), 1/100000 ( normal )
Insulation resistance
100MΩ / 500VDC
Enclosure protection class
IP67 ( Cable type )
IP65 ( Socket type )
Weight
About 250g
Vibration
No change under 10gRMS, 20 ~ 2000Hz
Impact
100g,11 milliseconds
Ordering Information:
JC610-07
Oil Pipe Pressure Sensor
Pressure type
Gauge pressure ( G may not be indicated )
Absolute pressure ( A )
Sealed reference pressure ( S )
Range
( 0~ X KPa or MPa)
Code
Overall accuracy ( linearity + repeatability + hysteresis )
1
±0.4%FS
2
±0.25%FS
3
±0.1%FS
Code
Power supply
D1
10~24VDC constant voltage
D2
1.5mA DC constant current
Code
Signal output
V1
0±2mV~90±20mV
Code
Additional functions
F1
M20x1.5 external thread
F2
G1/4 external thread
F0
Special
W1
Cable type(IP67,2m)
W2
Aerial socket type(IP65)
P
Flush diaphragm type
E
Intrinsically safe explosion-proof type Ex iaIICT5
JC610-07(0~200KPa) -1 -D1 -V1 -F2 -W1 -E Oil Pipe Pressure Sensor
Tips for Type Selection
* When installing the flush diaphragm product on the site, adopt the correct sealing means to prevent any influence on product stability by installation stress.
* The Company may, according to users' requirements, provide products at 70MPa or higher pressure or at a wide temperature compensation range.
* As an additional function code for type selection, the code "E" for intrinsically safe explosion-proof type Ex ia II CT5 denotes that power source must be supplied via safety barrier.
* For other special requirements, please discuss with us.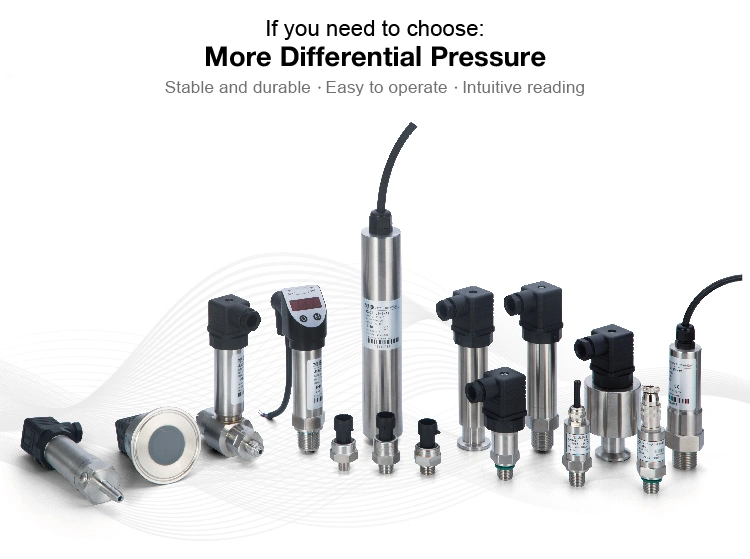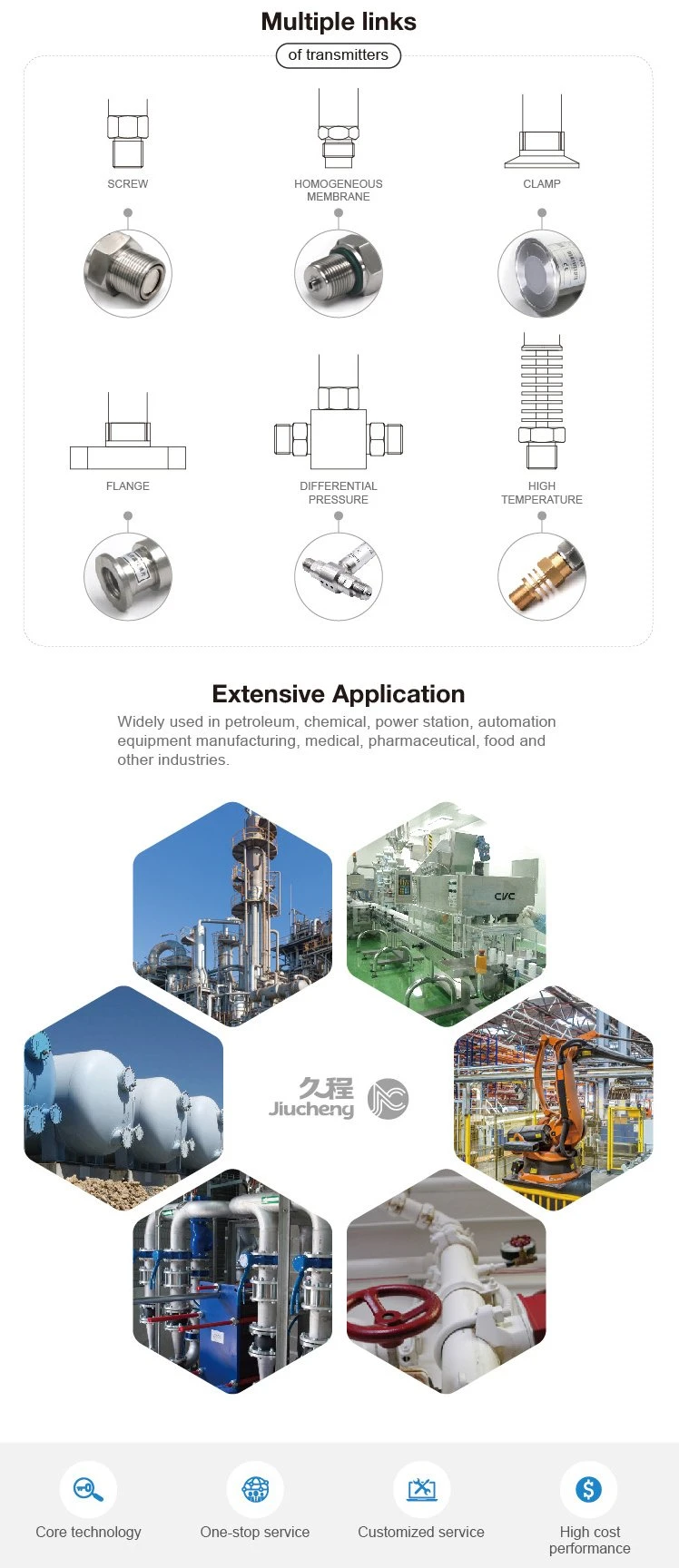 About Jiucheng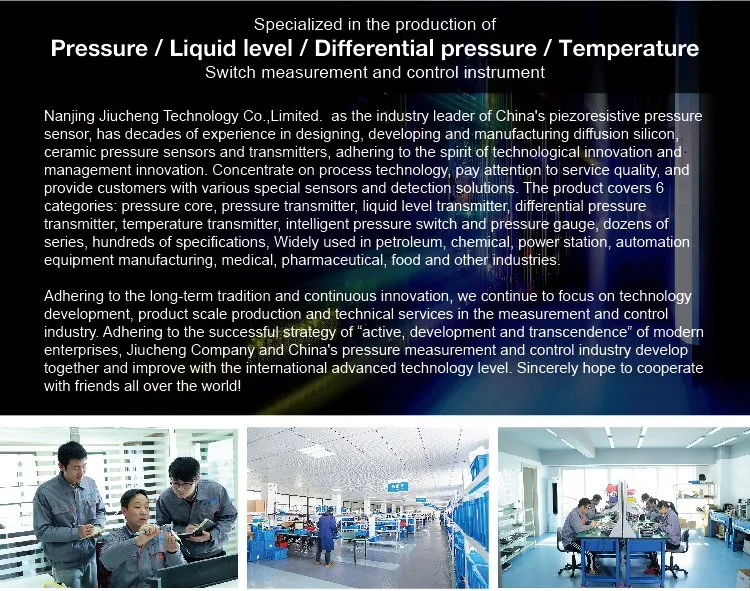 Qualification and Certificate: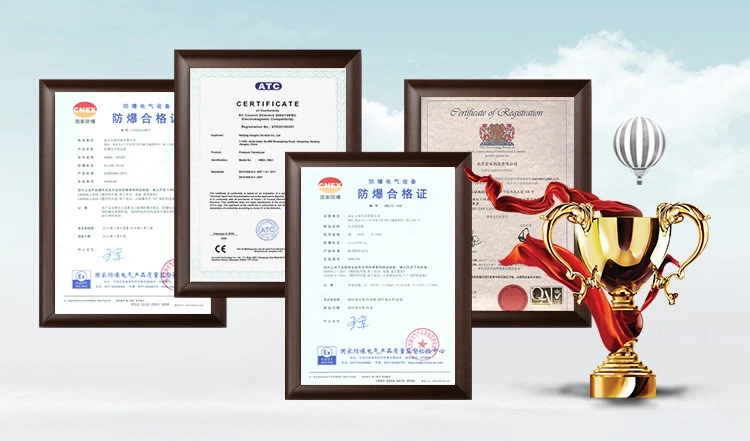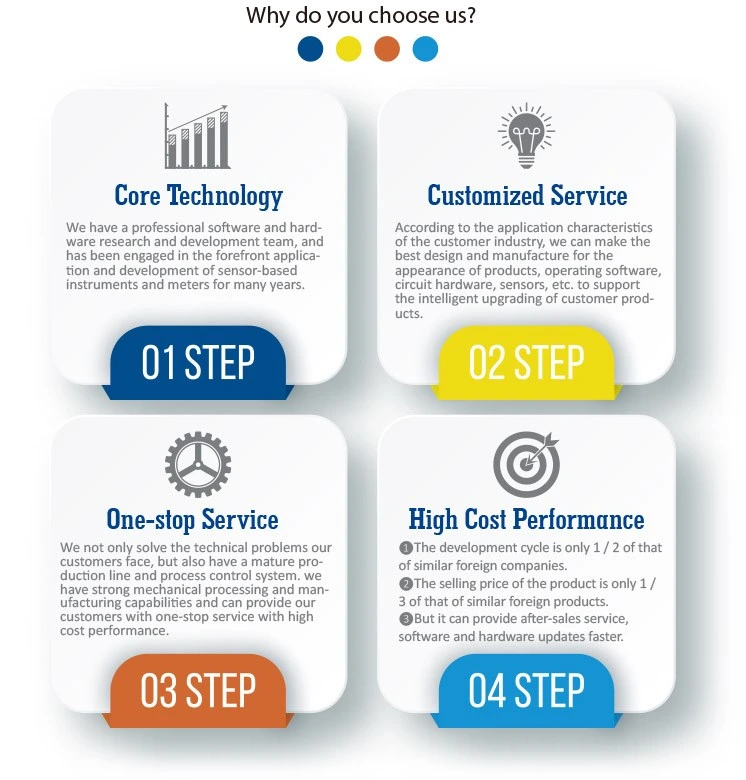 Product Packaging:
We choose cartons and protective pads that can be recycled. This will maximize the protection of our products from damage during transportation.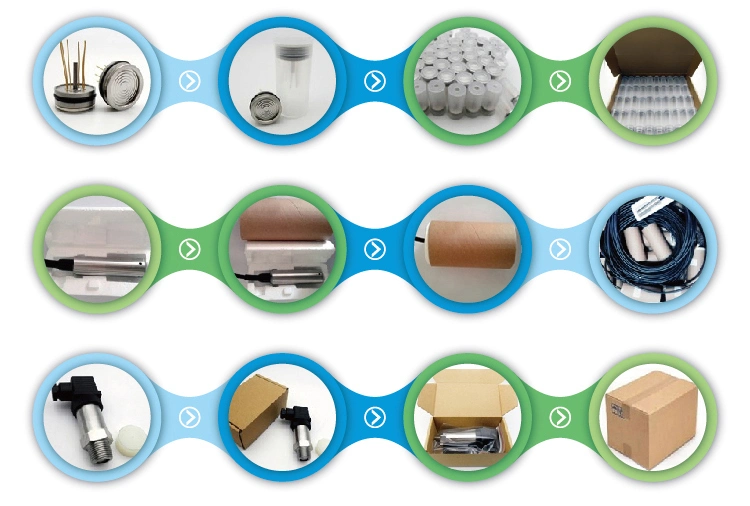 Product Transportation:
We only choose the global express service providers. We will deliver the goods to you at the most efficient speed.