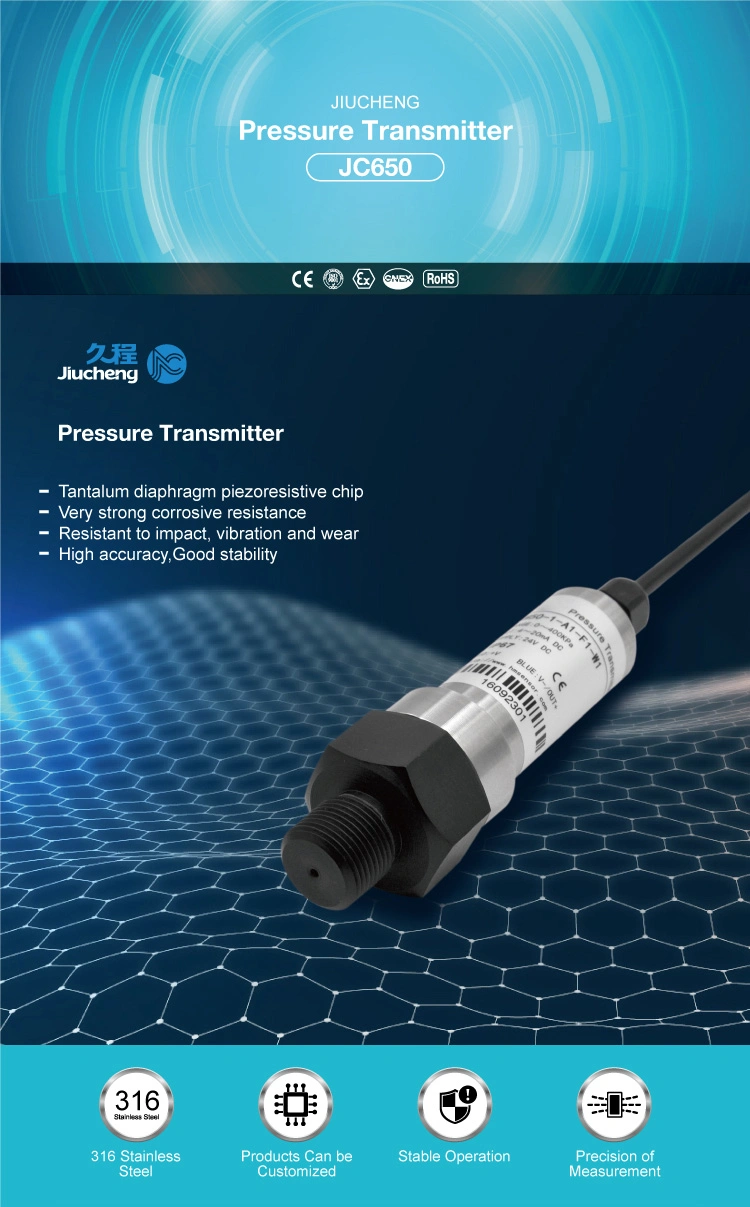 JC650 Anti-Corrosion Ceramic Absolute Pressure Transmitter / Sensor Overview:
JC650 anti-corrosion ceramic absolute pressure transmitter / sensor adopts foreign high-performance anti-corrosive tantalum diaphragm force-sensing chip, supported with high-precision electronic element. It is assembled through strict process flow. Featured by strong corrosive and wear resistance etc, this series of product has very well solved the pressure measurement problems of strong and weak corrosive gas or liquid under domestic special applications.This series of pressure transducer can be widely used in petroleum, chemical, metallurgical, electric power, environmental protection and other fields to automatically measure and control the gauge pressure, absolute pressure and negative pressure of corrosive gas, liquid, and vapor.
JC650 Anti-Corrosion Ceramic Absolute Pressure Transmitter / Sensor Features:
* Tantalum diaphragm piezoresistive chip, with very strong corrosive resistance
* Resistant to impact, vibration and wear
* High accuracy: 0.25% FS 0.5%FS
* Good stability: ≤0.2% FS / year, ≤0.02% FS / ºC
* Without production process pollution; without any force transmission filling liquid
* The enclosure can be made of PVC, titanium alloy or PTFE, depending on the customer's medium corrosion.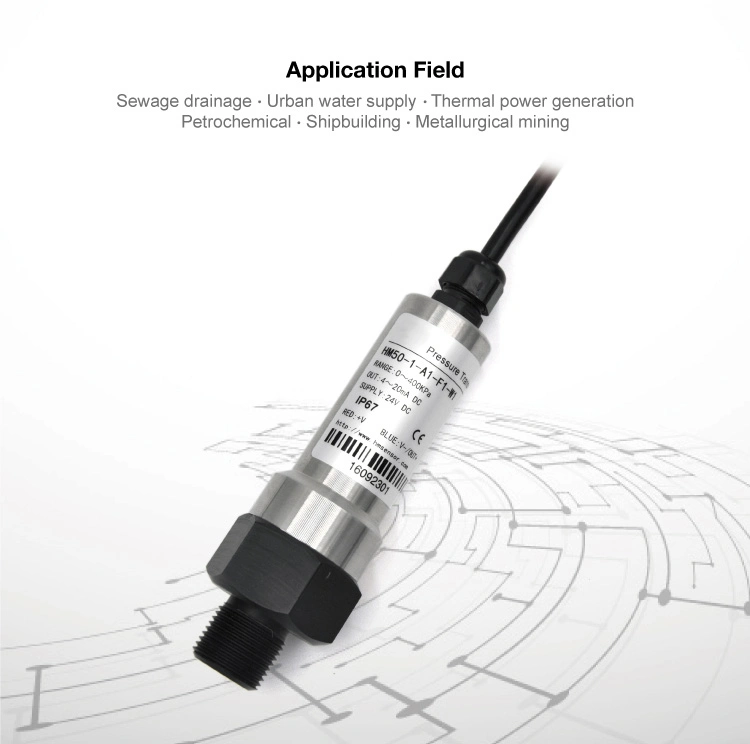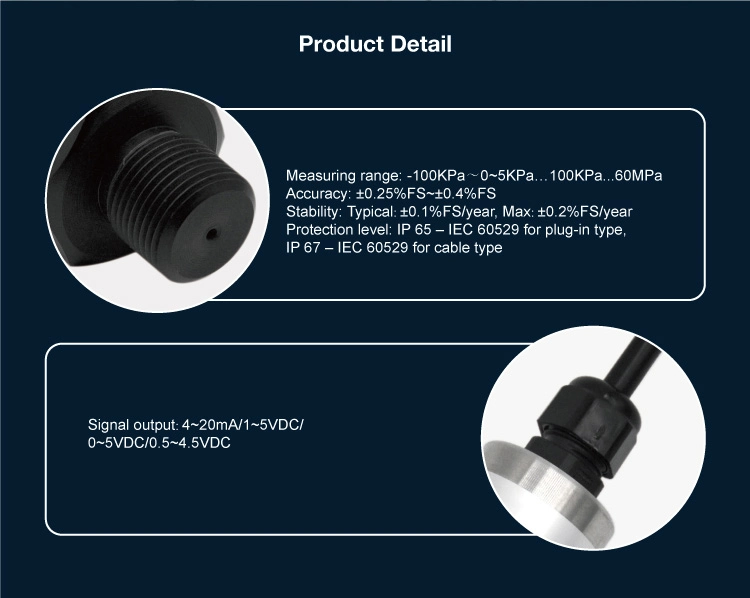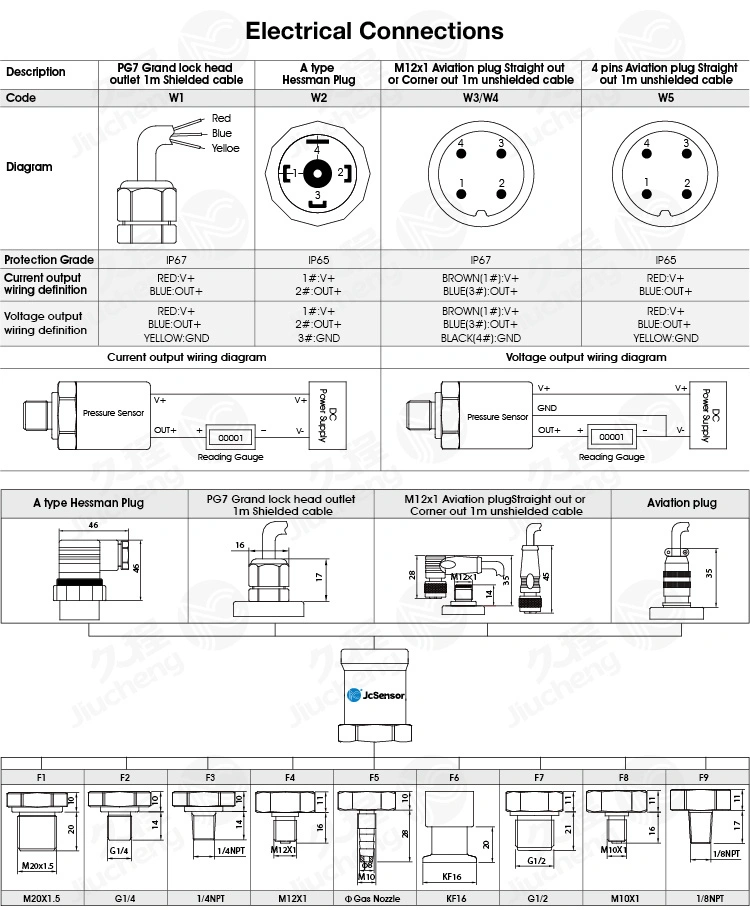 Technical Parameters: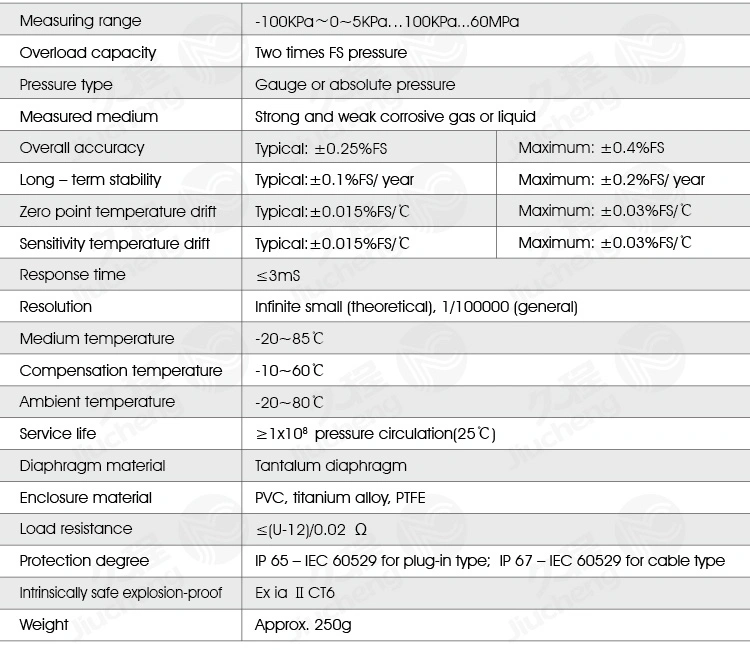 Ordering Information: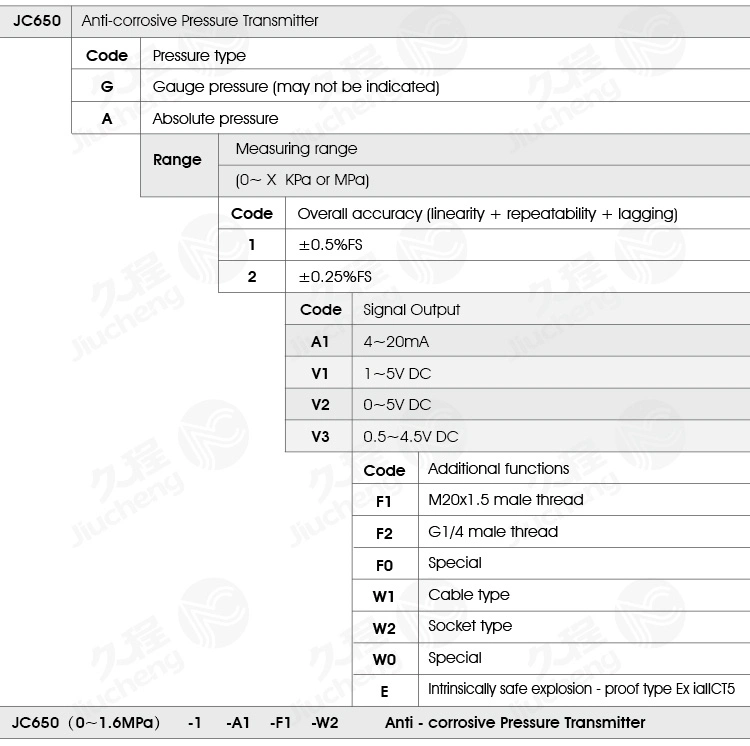 Tips for Type Selection
* The measured medium shall be compatible with the material contacting with the product.
* The code E, an additional function code for selection, namely, intrinsically safe explosion-proof Ex ia II CT5, must be power supplied via safety barrier.
* Please contact us for other special requirements and clearly indicate them in the order.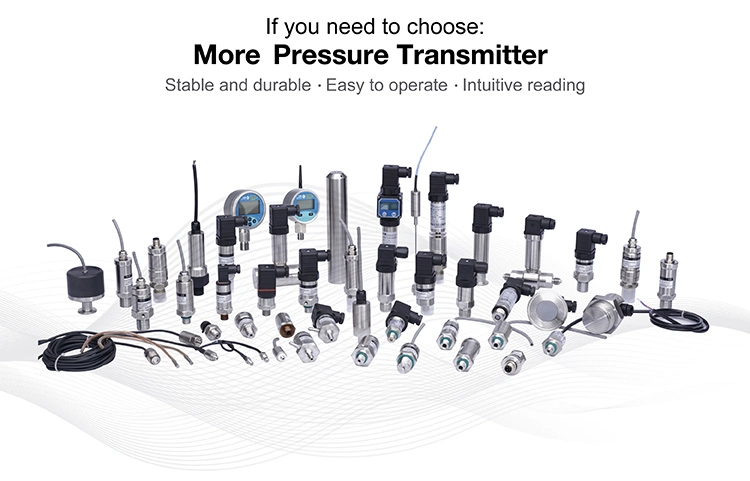 About Jiucheng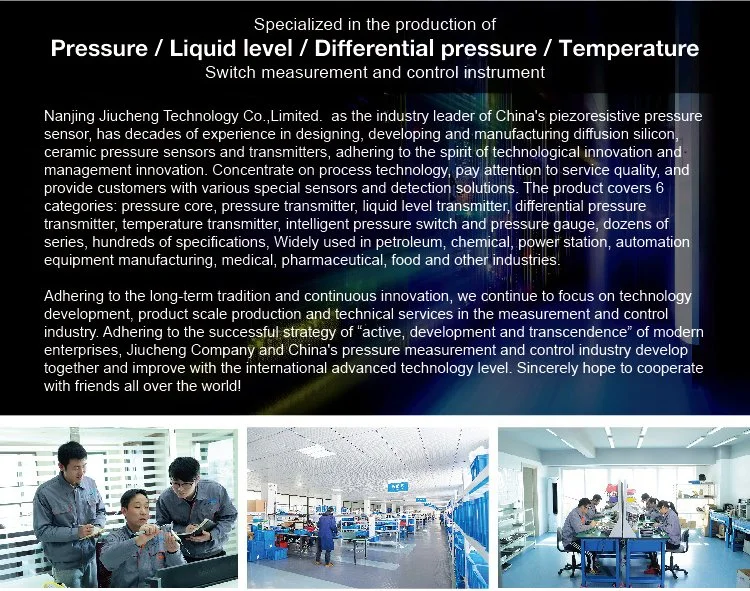 Qualification and Certificate: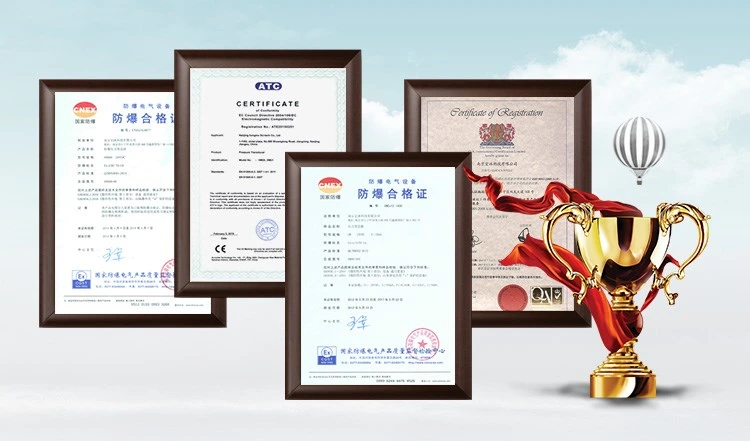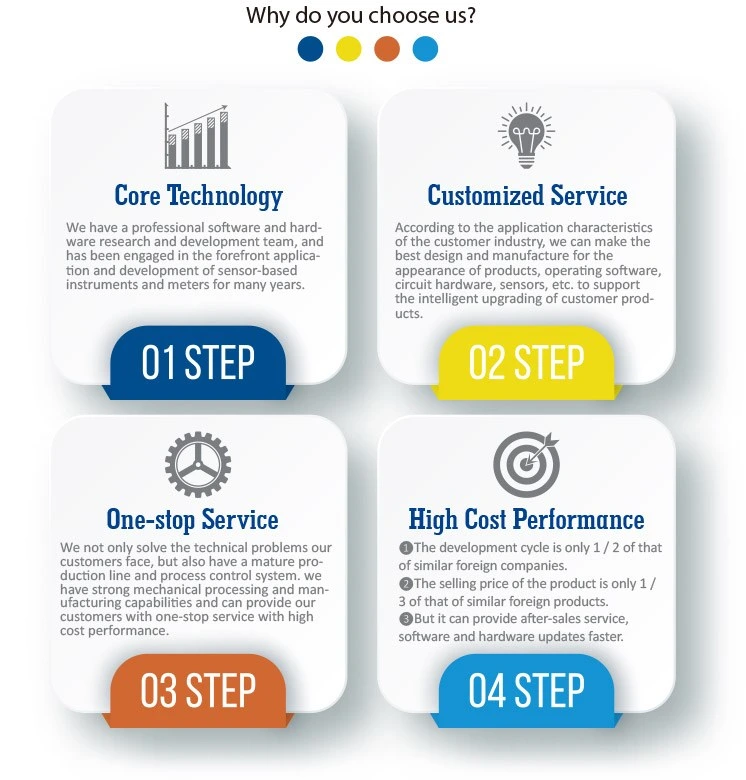 Product Packaging:
We choose cartons and protective pads that can be recycled. This will maximize the protection of our products from damage during transportation.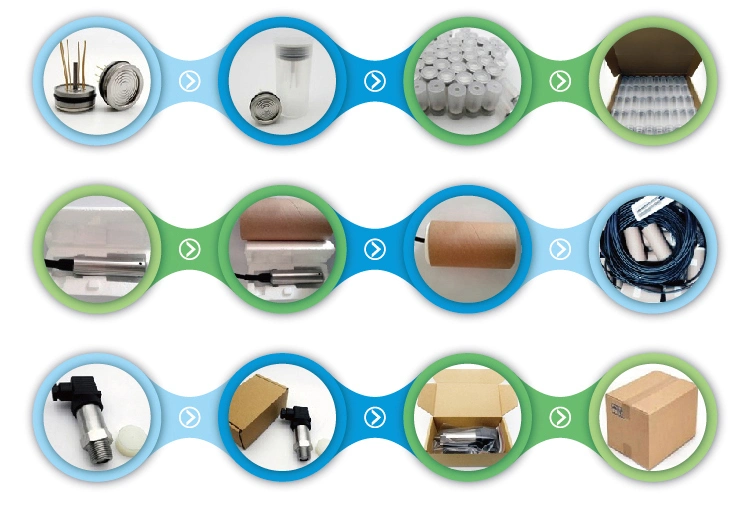 Product Transportation:
We only choose the global express service providers. We will deliver the goods to you at the most efficient speed.