Double Flange Single Flange Pressure Transmitter Diaphragm Differential Pressure Liquid Level Transmitter
WNK5 series pressure transmitter is the high-performance products among WNK pressure transmitter series. It transforms physical signal of pressure, differential pressure and level to standard signal via collecting cell sensor and digital processing circuit.
WNK5 adopts advanced specified integrated circuit digital technology to realize best uniformity of accuracy and signal. Each set of transmitter is ambient temperature compensated, ensured highest accuracy and lowest drift of transmitters in wide working temperature range.
Product Name

Smart High Precision Differential Pressure Transmitter

Applicable media

Pressure range

1-300Kpa~300bar,Negotiated

Accuracy

0.075%, higher on request

Stability

±0.15% of URL for 5 years

Temperature drift

Output signals

4~20mA, Hart, Profibus-PA for option, FF per request

Display

Housing material

Mechanical connection

Protection class

Ex-proof

Exia II CT4, other option per request

Power Supply

Ambient temperature

-40 to 85ºC,-40 to 80ºCfor LCD header

Storage temperature

-45 to 85ºC,-40 to 80ºC for LCD header ;

Measurement

with display: 95*126*52 (mm)

without display: 95*115*52 (mm)

Net Weight

4kg (without bracket or process connection)
Differential Pressure Transmitter for Flow Measurement
By measuring the difference in fluid pressure while the fluid flows through a pipe,it is possible to calculate the flow rate. For differential pressure flow measurement,a primary and secondary element are used. The primary element is designed to produce a difference in pressure as the flow increases.The most common being the orifice plate,venturi,flow nozzle,and pitot tube. The secondary element is the differential pressure transmitter.It is designed to measure the differential pressure produced by the primary element as accurately as possible.In particular,it is important that the differential pressure measurement is not affected by changes in the fluid line pressure,temperature or other properties such as ambient temperature.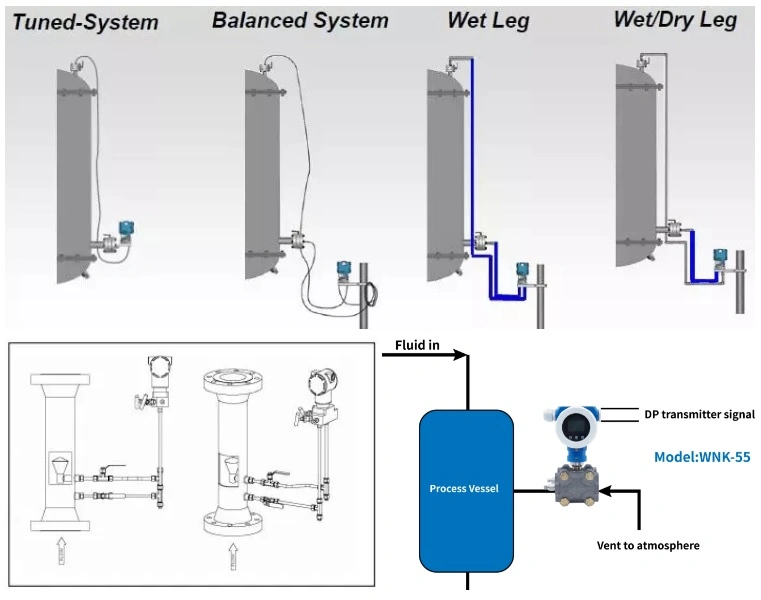 The differential pressure transmitter is usually used to measure the liquid level in a closed container.
The pressure difference generated by the liquid's own gravity is used to measure the liquid level in the container. The high-pressure side measuring tube is always filled with water due to steam condensation, keeping the pressure constant, while the low-pressure side measuring tube and the container form a communication device, and its pressure changes linearly with the change of the liquid level in the container.
A good DP transmitter will ensure that the differential pressure is measured accurately,regardless of other changing parameters and will reliably transmit signal to represent the differential pressure. In a typical control loop,the transmitter signal is fed to the controller where output is used to regulate the flow rate through a control valve.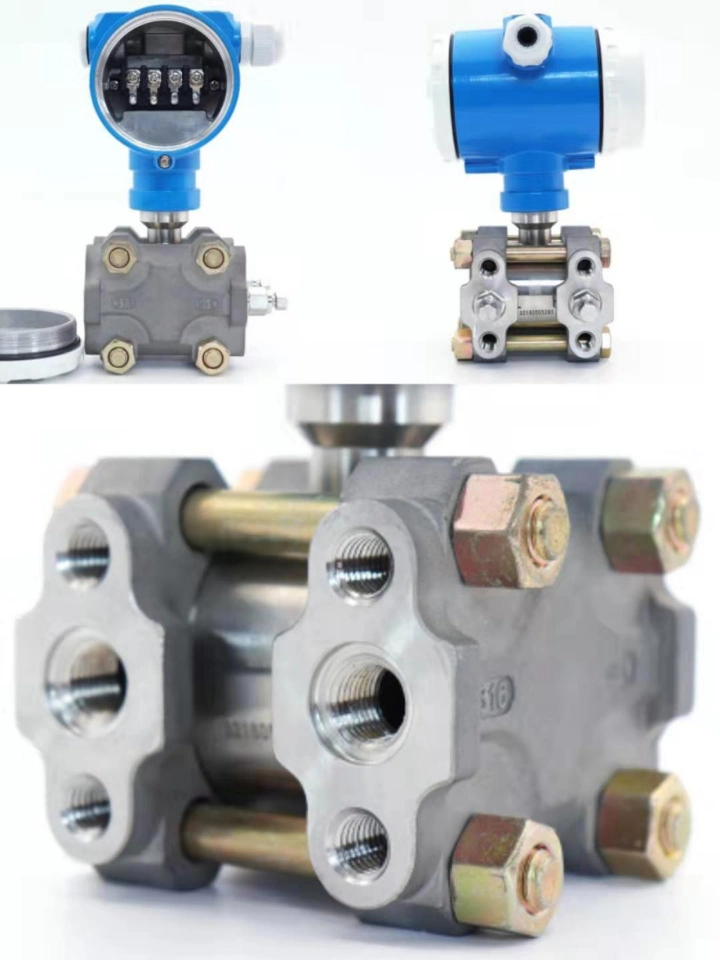 Product other application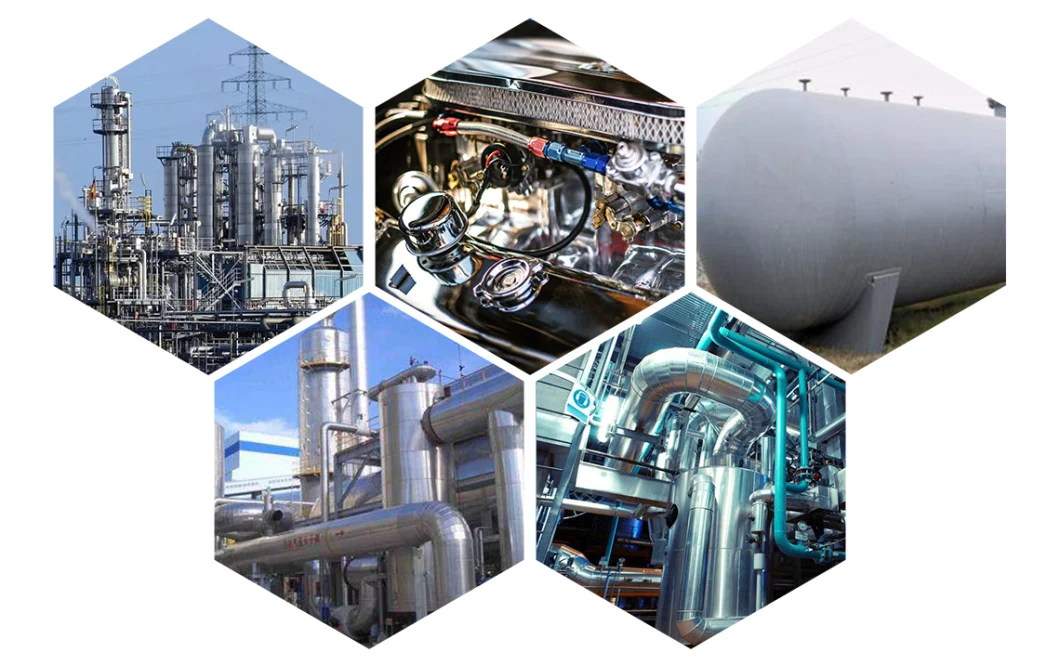 Differential pressure transmitters are commonly used to calculate pressure, flow, liquid level, volume, etc.

in media. It is mainly used in industrial control fields such as energy, chemical, natural gas, power plants, paper making.
For example,in a milk manufacturing industry, the proportion of pipelines needs to be controlled, and a hygienic differential pressure transmitter is used to monitor the flow of the pipeline and control the proportion.



FAQ
Q: Are you trading company or manufacturer ?
A: We are a manufacturer since the year 2004, committed to producing high accuracy, long-term stability, cost-efficient pressure/level/temperature measuring instruments.
Q: What's your quality control system?
A: Our factory is cerrified under ISO 9001-2015. All products are completed with temperature compensation and 48 hours aging test before shipment.
Q: What is the warranty of your products?
A: 12 month from shipment date, for non-man-made damages.
Q: Shipping and Delivery
A: Small orders are delivered with DHL, Fedex, TNT, UPS , with delivery time in 4 - 5 business days.
Large orders are recommended to ship by sea
If you have another question, pls feel free to contact us as below