Brief description:
This type of intrinsic safety barrier transmits current signals from hazardous area to safe area by isolating transmitting current or voltage signals in a circuit or two isolated circuits, and it may also provides power to transmitters on the spot. The input, output, and power supply are galvanically isolated from each other. Besides, it may be connected in a connection network in safe area via communication ports. As an intelligent product, it has an online self-diagnosis function. Customer may set the type and the range of the input or output signals with a specific handheld programmer (display in Chinese) we provide.
Mainly technical parameters:
Explosive-proof grade: [Ex ia]C
Transmitting accuracy: ±0.1%F.S(25ºC±2ºC)
Influence of ambient temperature: < 30 ppm/ºC
Rise time: ≤ 0.5 s
Permissible input signal from hazardous area:
DC:4~20 mA
Signal type and range can be specified at your order and may also be programmed by user.
Input resistance: approx. 80 Ω
Available voltage: Not more than 26 V for no-load, not less than 17.5 V for full load.
Output signal to safe area:
DC current:0~10 mA, 4~20 mA, 0~20 mA
DC voltage:0~5 V, 1~5 V, 0~10 V
Signal type and range can be specified at your order and may also be programmed by user.
Output load capacity:
DC current: 0~10mA: 0~700Ω; 4~20mA: 0~350Ω
DC voltage: 0(1)~5V: ≥1MΩ; 0~10V: ≥2MΩ
Parameters certified by China National Quality Supervision and Test Centre for Explosion Protected Electrical Products (CQST):
Um=250VAC/DC
Between terminal 1 & 3 and terminal 4 & 6:
Uo=28 V, Io=93 mA, Po=650 mW
C: Co=0.058 μF, Lo=2.8 mH
B: Co=0.45 μF, Lo=8.4 mH
A: Co=1.50 μF, Lo=22.4 mH
Between terminal 1 & 2, 4 & 5:
Uo=5.0 V
C: Co=70 μF
B: Co=700 μF
A: Co=700 μF
Dielectric strength:
≥ 2500 V AC (Input /Output /Power supply, 1 mA leakage current, 1 minute test time)
Insulation coordination:
≥ 100 MΩ (Input /Output /Power supply)
Electromagnetic compatibility: IEC 61000-4
Power supply:
18~32 V DC (Recommended voltage: 24 V DC)
Panel Light Indication
Light indicating: PWR (green) remains shining during normal operation;
Light indicating: ALM glitters (red) or remains shining when signal fault occurs.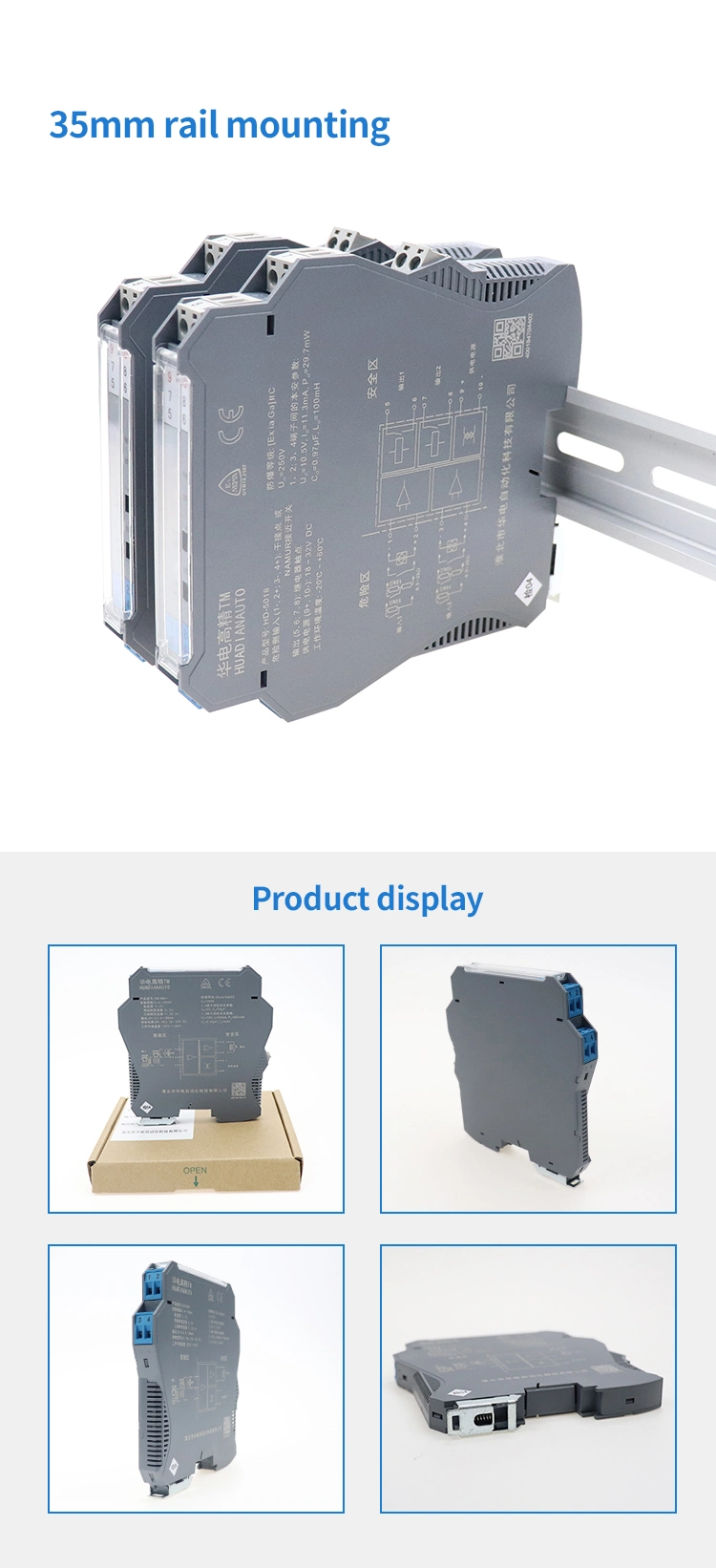 FAQ
Q: Are you trading company or manufacturer ?
A: We are a manufacturer, committed to producing high accuracy, long-term stability, cost-efficient pressure/ level/ temperature measuring instruments.
Q: What's your quality control system?
A: All of our products are completed with temperature compensation and 48 hours aging test before shipment. And all of our products will be fully pre-inspection by QC departments before shipping to you . We have the certification of ISO,CE we could send the certification test of our company to you.
Q: What is the warranty of your products?
A: 2 years for level transmitter and pressure transmitter series others are 5 years from shipment date, for non-man-made damages.
Q: What is your shipping method?
A: Small orders are delivered with DHL, FedEx, TNT, UPS , EMS. Large orders are recommended to ship by sea.
Q: Do you provide samples ?
A: Yes,we have materials in stock to help you to get the samples as soon as we can.
Q: How long will you give me the reply?
A: We can support you 24Hours online service via email, skype, what'sapp, facebook etc within 1 hour.