China Tianjin U-ideal Instrument Co., Ltd high pressure, high temperataure,high accuracy , high viscosity oil, water, liquid, solid Radar leve level sensor, level transmitter-level controller, level switches, level meter-level gauges-level gage-level transmitting-level indicator
Guided Wave Radar material level gauge-level indicator
Measuring principles
Guided wave radar level indicator is a gauge based on time stroke principle, the radar wave is running at speed of light, the running time can be converted to material level signal through electric components. The sensor emit high frequency impulse and transmit along the cable, when impulse meets the material surface, it reflects back and is received by receiver inside the gauge, and converts the distance signal to material level signal.
Input
The reflected impulse signal is transmitted along the cable to the circuit of the gauge; the microwave processor processes this signal, and recognizes the wave echo of the microwave impulse from the material surface. The correct wave echo signal is recognized by the intelligent software, the distance from the material surface D is proportional to the time stroke of the impulse T:
D=C
×
T/2
Among them, C is the velocity of light.
As the distance of the empty tank E is known, so L is:
L=E-D
Output
By inputting empty tank height E (=cero point), full tank height F (=full measuring range) and some application parameters are set, the application parameters will automatically make the gauge adapted to the measuring environment, it corresponds 4-20mA output.
Owing to adopted advanced microprocessor and special Echo processed technology, the radar level transmitter can be applied in any kinds of complicated working environment
Multi process fitting method and detecting element type make GUIDEPULS40 serial radar level transmitter suitable to any kinds of complicated working environment. For example: high temperature, high pressure and small dielectric constant medium measurement and so on.
Adopting pulse work method can make the meter has lower transmitting power, and suitable to install into any metal or non-metal vessel, no harm to people and environment.
haven't found the products you need?

Send us email and contact us for more catalogs, we will help you choose one suitable type for your working condition.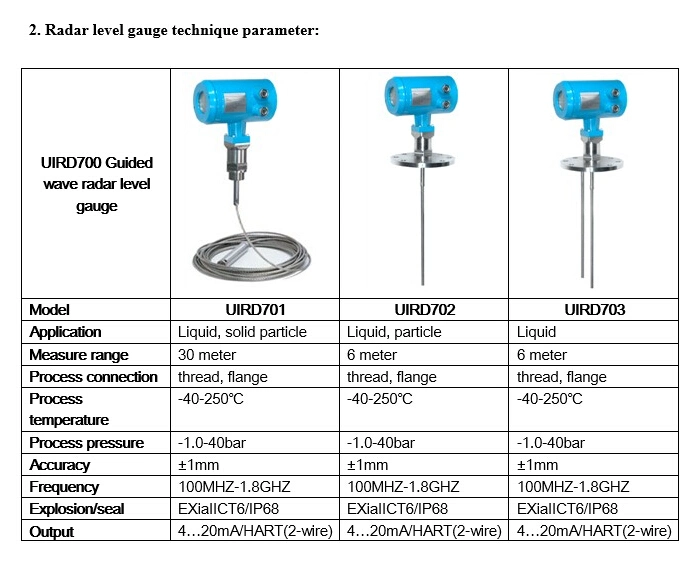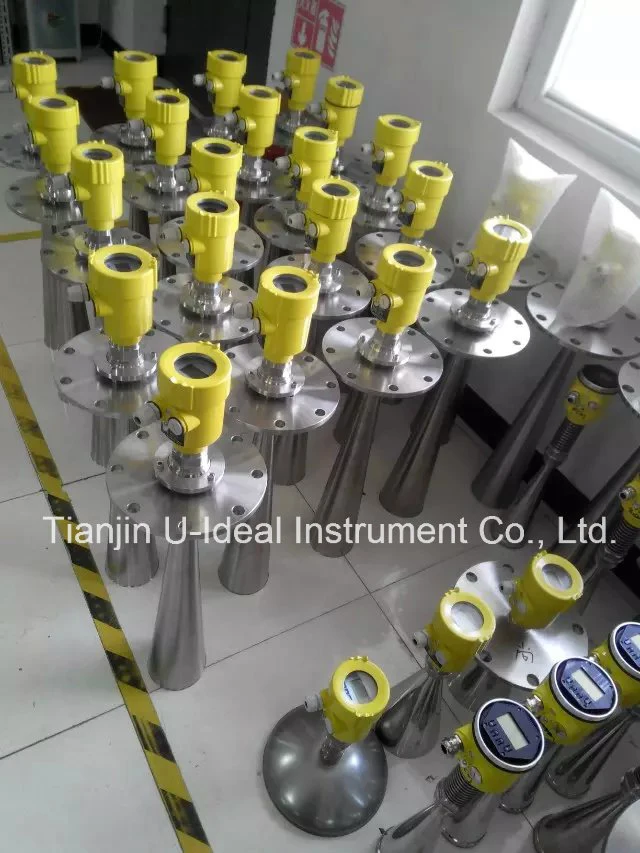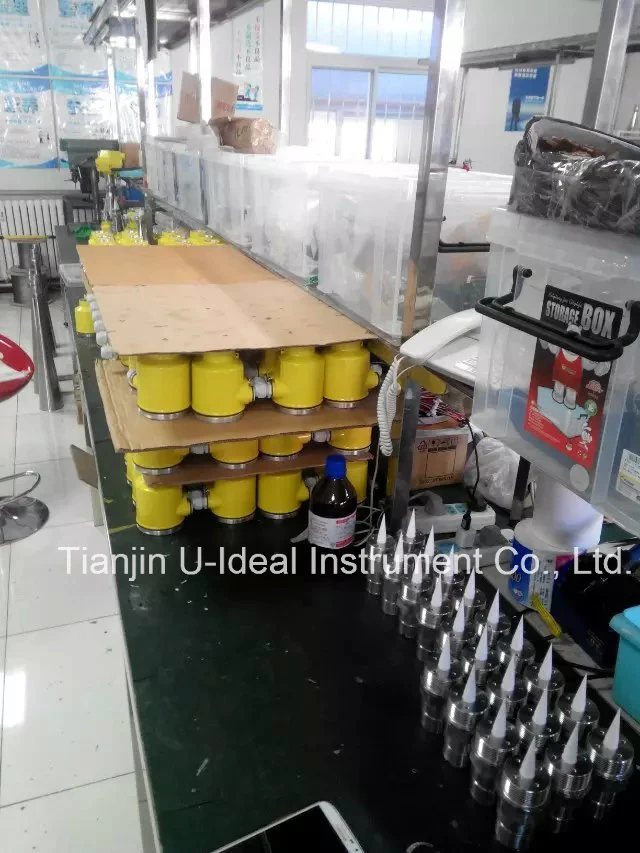 | | | | |
| --- | --- | --- | --- |
| UIRD700 Guided wave radar level gauge level indicator | | | |
| Model | UIRD701 | UIRD702 | UIRD703 |
| Application | Liquid, solid particle | Liquid, particle | Liquid |
| Measure range | 30 meter | 6 meter | 6 meter |
| Process connection | thread, flange | thread, flange | thread, flange |
| Process temperature | -40-250ºC | -40-250ºC | -40-250ºC |
| Process pressure | -1.0-40bar | -1.0-40bar | -1.0-40bar |
| Accuracy | ±1mm | ±1mm | ±1mm |
| Frequency | 100MHZ-1.8GHZ | 100MHZ-1.8GHZ | 100MHZ-1.8GHZ |
| Explosion/seal | EXiaIICT6/IP68 | EXiaIICT6/IP68 | EXiaIICT6/IP68 |
| Output | 420mA/HART(2-wire) | 420mA/HART(2-wire) | 420mA/HART(2-wire) |