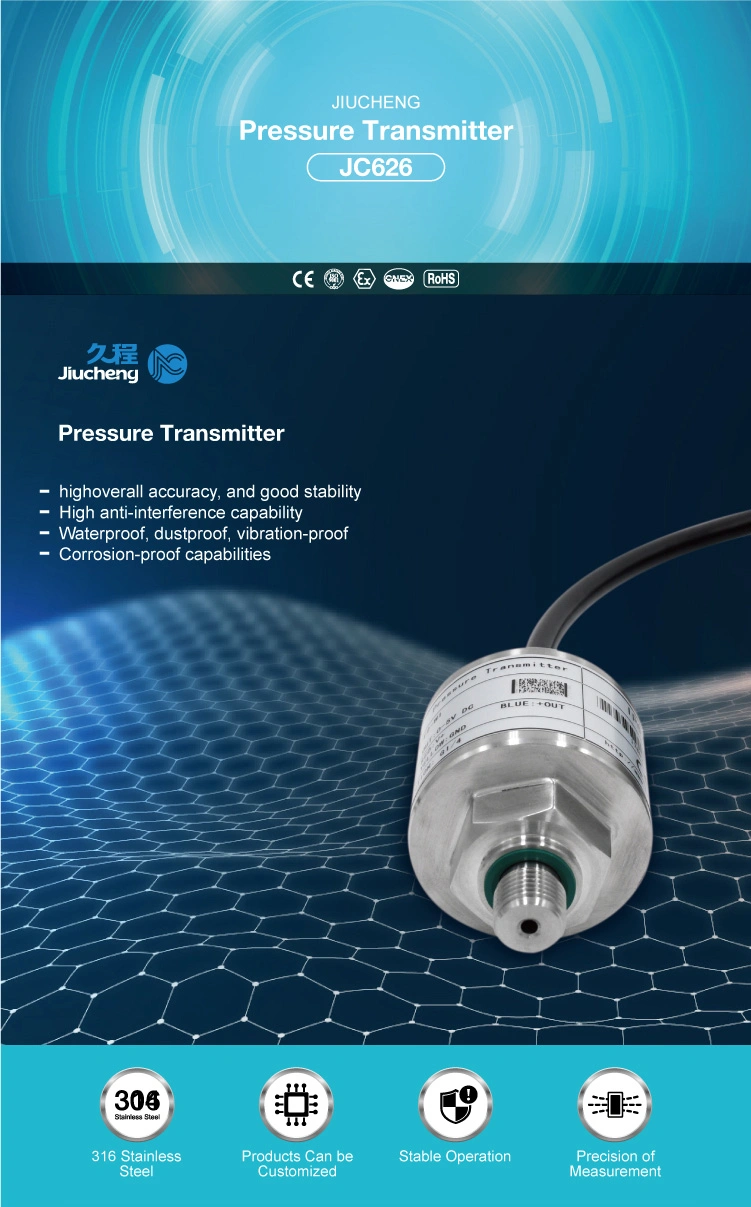 JC626 Pressure Transducer for Oil Fields Overview:
JC626 pressure transducer for oil fields has been assembled through rigorous technological process by use of internationally advanced ceramic capacitor sensor in combination with high-accuracy electronic elements. By adopting dry pressure measurement technique without intermediate liquid, thick film electronic technology, SMT (surface mount technology) and PFM signal transmission technology, it has given full play to technical advantages of ceramic capacitor sensors, so as to provide the pressure transducer with excellent technical performance. It features strong overloading and impact resistance capacity, high stability and very high accuracy of measurement. With a variety of types and ranges, this series of products can be extensively used in many industrial fields such as petroleum, chemical, metallurgical, electric power, pharmaceutical and food industry fields etc..
JC626 Pressure Transducer for Oil Fields Features:
* Strong overload and impact resistance, with overpressure being up to dozens to hundreds of times of the measuring range.
* Adoption of an imported ceramic capacitor sensor, with strong signal output, highoverall accuracy, and good stability.
* Small temperature drift due to intermediate liquid canceled for measuring elements.
* Wide range of pressure, from micro pressure 0.5kPa to high pressure 100MPa, with optional positive and negative combined pressure.
* Pure ceramic substrate will not lead to process pollution, so it is applicable to food and pharmaceuticals industries.
* High anti-interference capability, as well as waterproof, dustproof, vibration-proof, explosion-proof, and corrosion-proof capabilities.
* Intrinsically safe explosion-proof type, with Explosion-proof Class ExiaIICT5.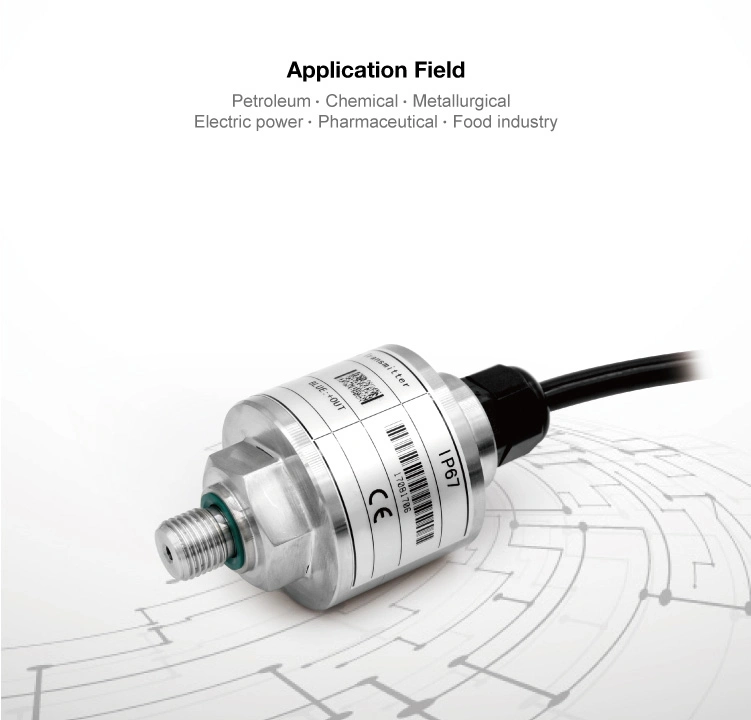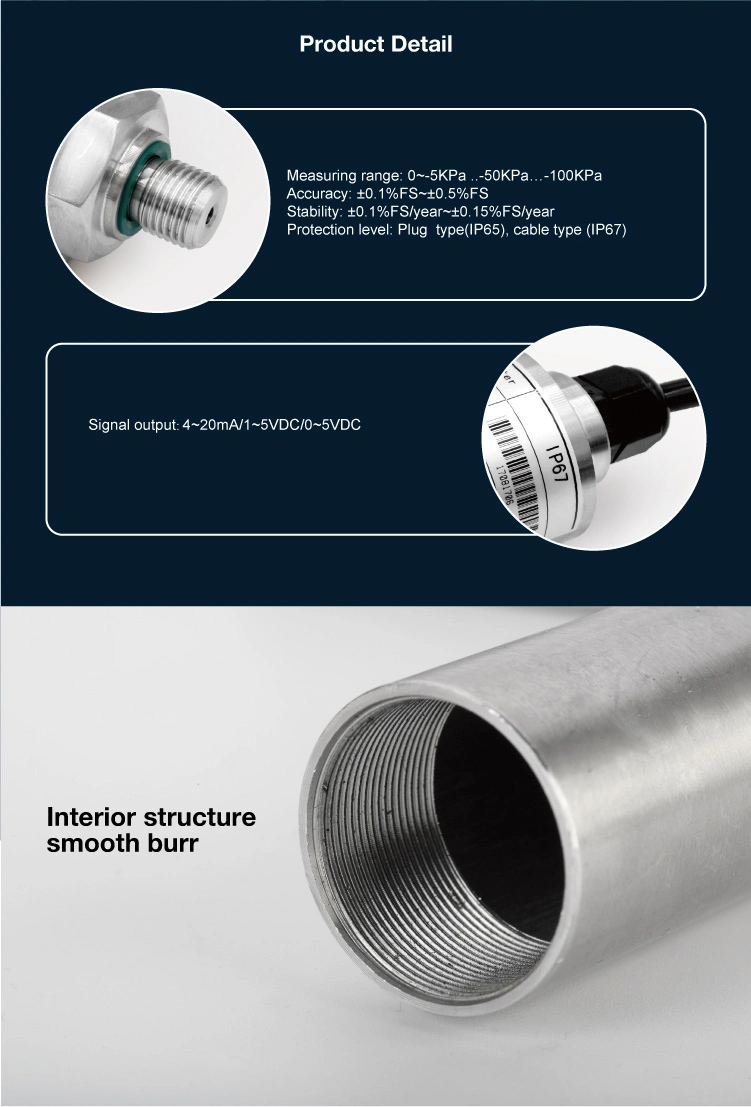 Technical Parameters:
Measuring range
Optional within -100KPa~0~0.5KPa...100MPa
Overload capacity
3 ~ 200 times of the maximum rated pressure (the smaller the range is,
the bigger overpressure times are)
Pressure type
Gauge pressure, absolute pressure and positive & negative combined pressure
Measuring media
Corrosive liquid, gas, vapor (the medium compatible with AL2O3 and 1Cr18Ni9Ti)
Overall accuracy (nonlinearity +
repeatability+ hysteresis)
±0.1%FS
±0.25%FS
±0.4%FS
Medium temperature
-40~125ºC
Ambient temperature
-40~85ºC
Compensation temperature
-20~80ºC
Long-term stability
≤±0.1%FS/year
Zero temperature drift
≤±0.02%FS/ºC
Sensitivity temperature drift
≤±0.02%FS/ºC
Range of power supply
12~36VDC(generally 24VDC)
Signal output
4~20mA / 1~5V DC / 0~5V DC / 0.5~4.5V DC
Load resistance
≤(U-12)/0.02 Ω
Response time
≤1ms
Structural materials
Diaphragm: aluminum oxide ceramics
Enclosure: low- copper cast aluminum or 1Cr18Ni9Ti
Connecting material:1Cr18Ni9Ti
Sealing structure: NBR, PTFE or fluo rubber
Enclosure protection class
Plug type(IP65); cable type (IP67)
Safety and explosion protection
Ex iaII CT6
Weight
Approx.0.5kg
Thermal hysteresis
±0.1%FS(typical value)
Vibration error
≤±0.01%FS(Axes X, Y, and Z,,200Hz/g)
Ordering Information:
JC626
Pressure Transducer for Oil Fields
Pressure type
Gauge pressure (G may not be indicated);absolute pressure(A); positive & negative combined
pressure(F)
Range
( 0~ X KPa or MPa)Measuring Range
Code
Overall accuracy (linearity + repeatability + hysteresis)
1
±0.5%FS
2
±0.25%FS
3
±0.1%FS
Code
Signal output (standard power supply)
A1
4~20mA (12~36V DC)
V1
1~5V DC (12~36V DC)
V2
0~5V DC(12~36V DC)
V3
0.5~4.5V DC(12~36V DC)
Code
Additional functions
F1
M20x1.5 external thread
F2
G1/4 external thread
F0
Special
B1
Stainless steel structure
B2
Aluminium alloy structure
P
Flush-diaphragm type
E
Intrinsically safe explosion-proof type Ex iaIICT5
JC626 G(0~10KPa) -1 -A1 -F1 -B1 -E Pressure Transducer for Oil Fields
Tips for Type Selection
* The medium to be measured shall be compatible with the material contacting with the product.
* As an additional function code for type selection, the code "E" for intrinsically safe explosion-proof type Ex iaIICT5 denotes that power source must be supplied via safety barrier.
* For other special requirements, please discuss with us and clearly indicate them in the order.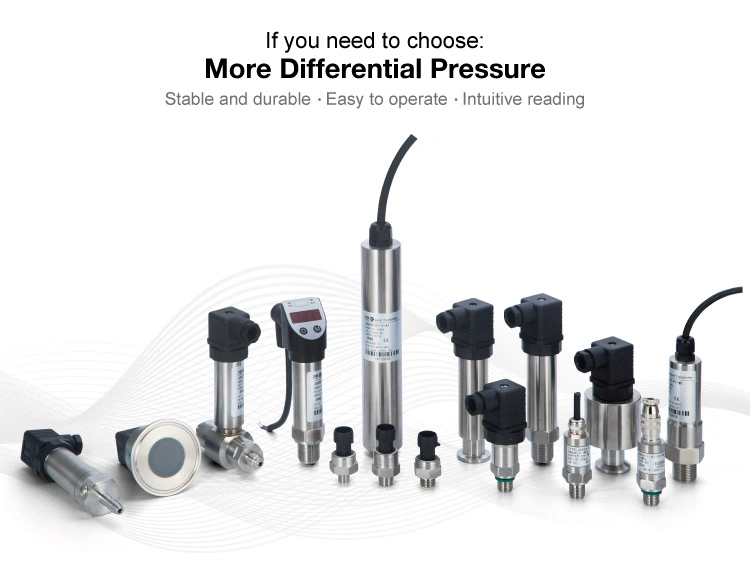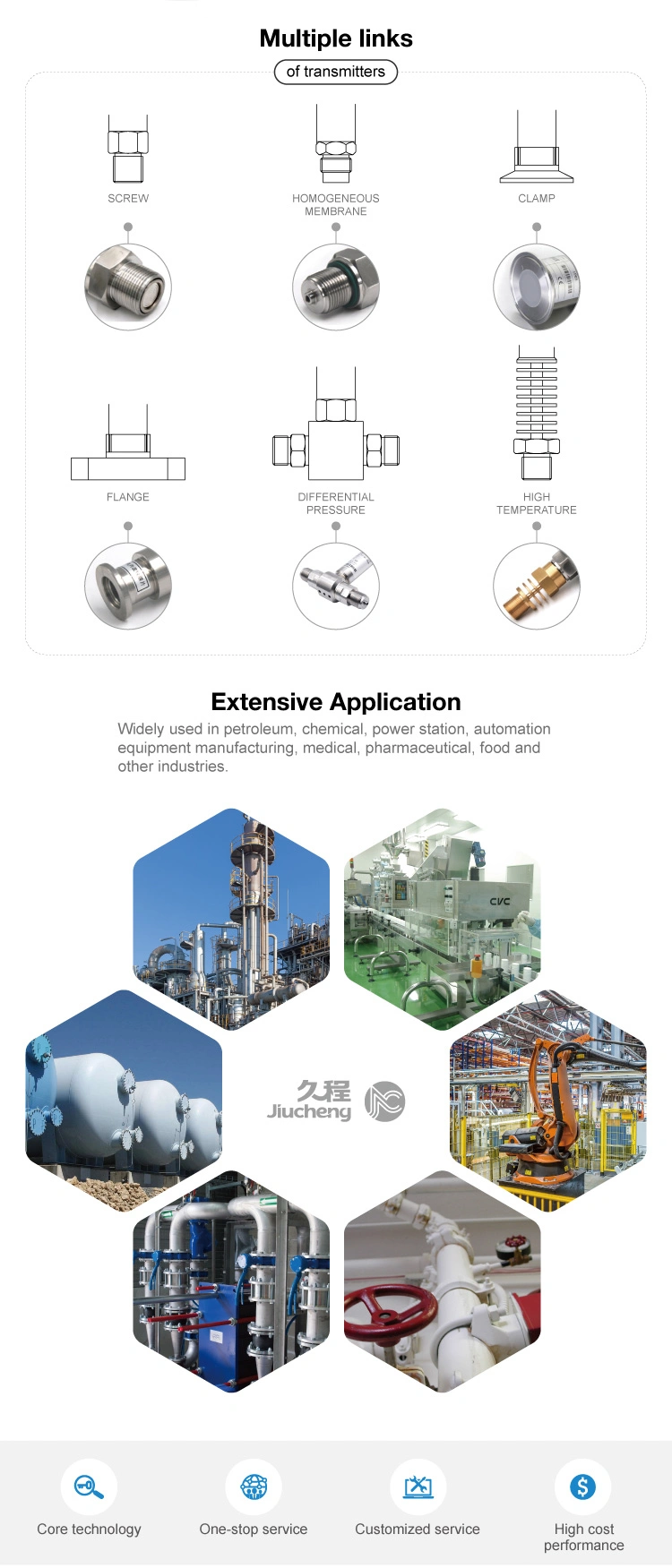 About Jiucheng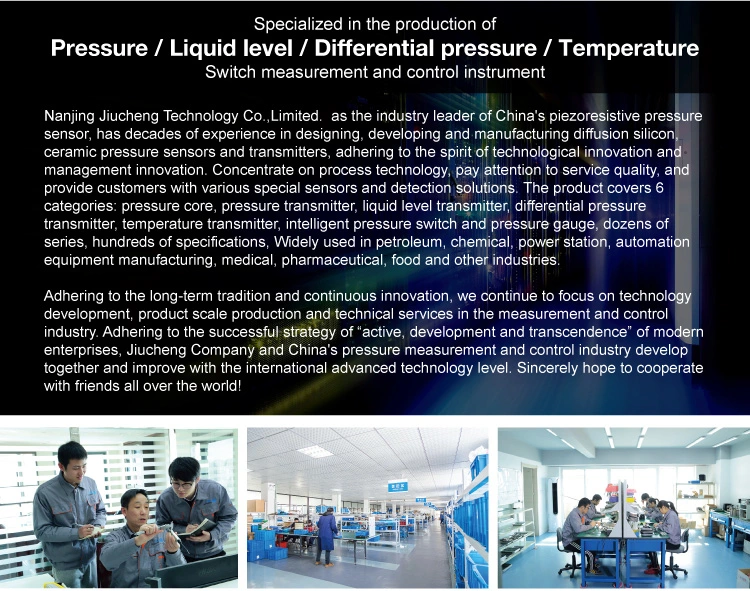 Qualification and Certificate: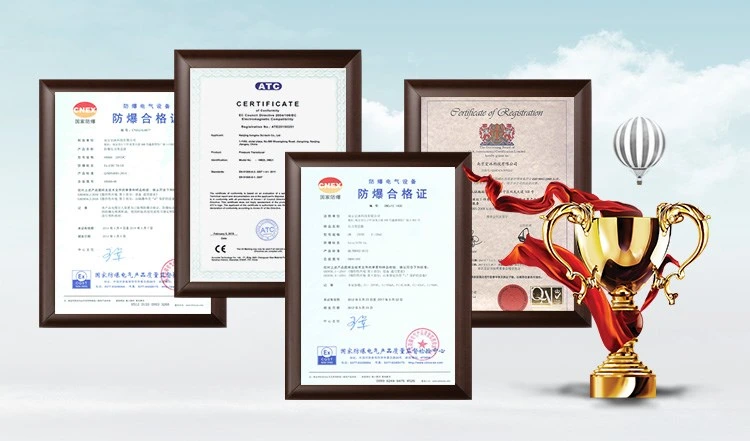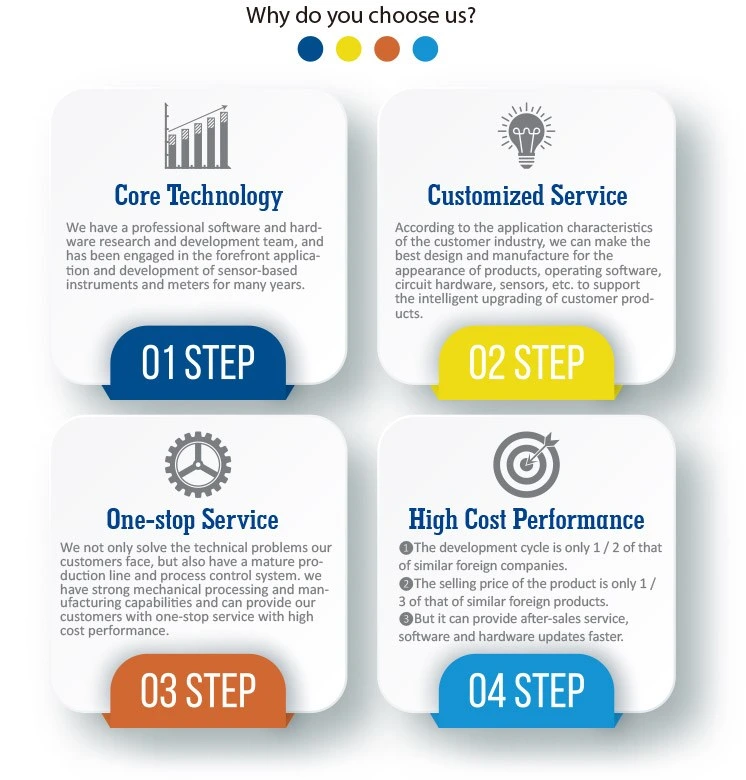 Product Packaging:
We choose cartons and protective pads that can be recycled. This will maximize the protection of our products from damage during transportation.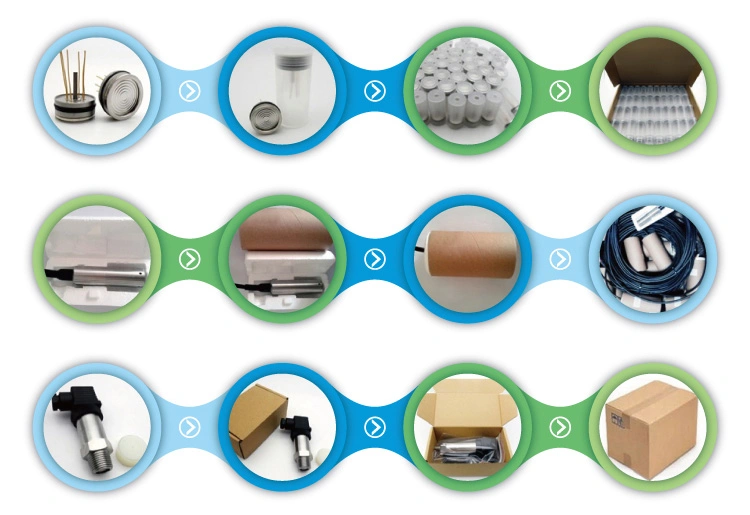 Product Transportation:
We only choose the global express service providers. We will deliver the goods to you at the most efficient speed.