Key Specifications/Special Features:

I Product introduction

The pressure transmitter is mainly applied to measure pressure, negative pressure, absolute pressure and other technical data of gas, liquid or vapor, then converts these data into 4~20mA DC signal output. It can connect with HART manipulator to promote self-diagnosis, reset measuring range and auto-zero functions. One side of pressure transmitter's δ cell receives measured pressure,
meanwhile, the other side connects with the air to detect pressure or negative pressure

Applications

Measuring pressure of pipeline and storage tank in petroleum, petrochemical and chemical industry.
Meeting high stability and precision requirements in electric power, city gas and other utilities.
Realizing stable measurement under temperature & humidity strictly controlled conditions in iron, steel, nonferrous metal and ceramic fields.
Using in the fields of pulp and paper where the resistance of chemical liquid and corrosion liquid is required.
Realizing stable measurement under temperature & humidity strictly controlled condition in machinery and ship building fields.


II Performance Parameters

Zero elevation and suppression:
The maximum zero elevation is the difference between upper range limit and span
The maximum zero suppression no more than the atmospheric pressure

Measuring range
Lower range limit: -100%URL(≥-0.1MPa)~+100%URL-span
Upper range limit: -100%URL+Span(≥-0.1MPa+Span)~+100%URL

Measuring range and zero adjustment
HART manipulator, local button, communication software supported by HART protocol
Response time
When the electrical damping of the transmitter turns off, the response time of the step input applied to the transmitter from 10% to 90% of the output range is less or equal to 0.4s.
| | |
| --- | --- |
| Measuring medium: | liquid, gas and vapor |
| Accuracy: | superior to0.1% F.S |
| Insulation resistance: | >100MΩ (100VDC) |
| Damping value: | 0.1~16s (Option) |
| Temperature affecting value: | 0.1%F.S/10ºC |
| Output signal: | 4~20mA(Max 22mA,Min 3.8mA) |
| Communication interface: | HART |
| Intrinsic safety: | EX ia IIC T6 |
| EMC: | EN 61326-1:2013 |
| Enclosure rating: | IP68 |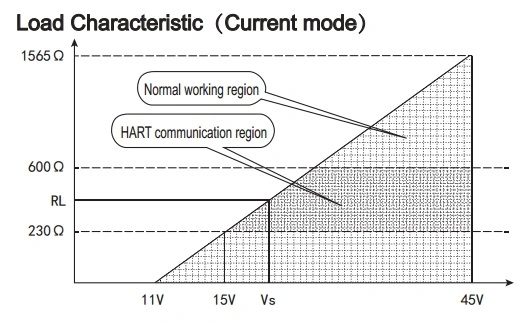 III Structural Drawings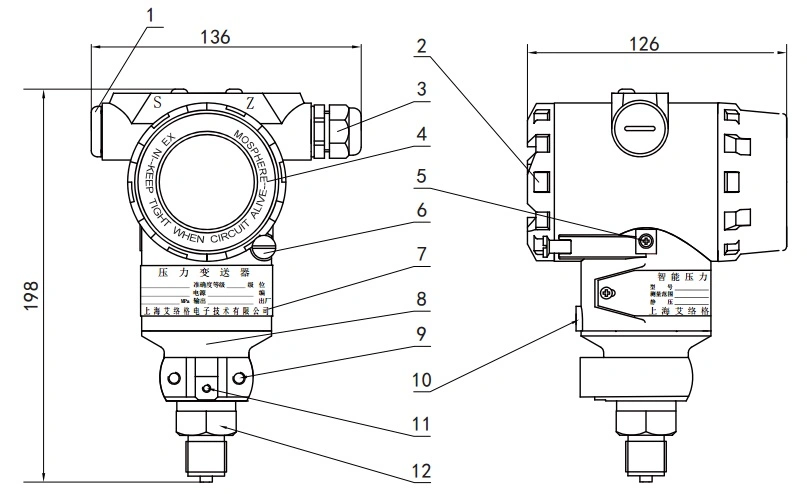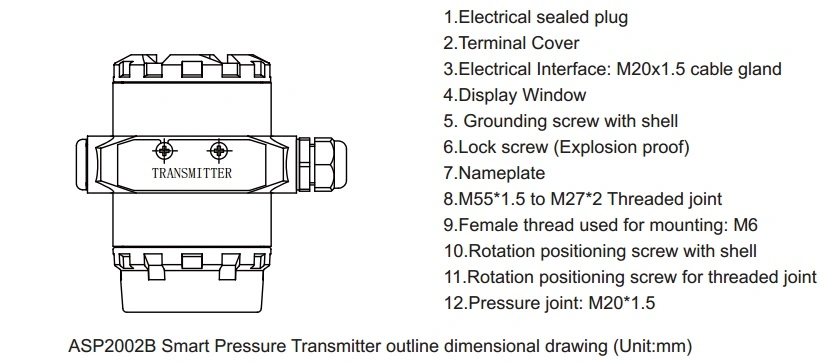 IV Fitting Dimension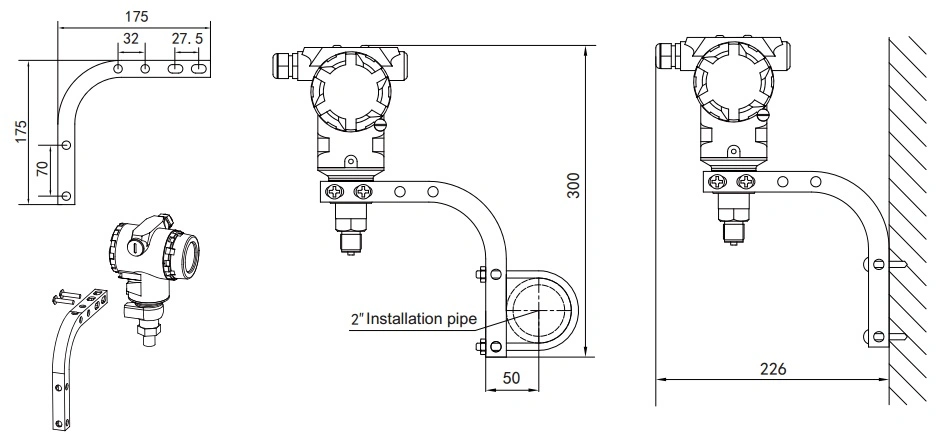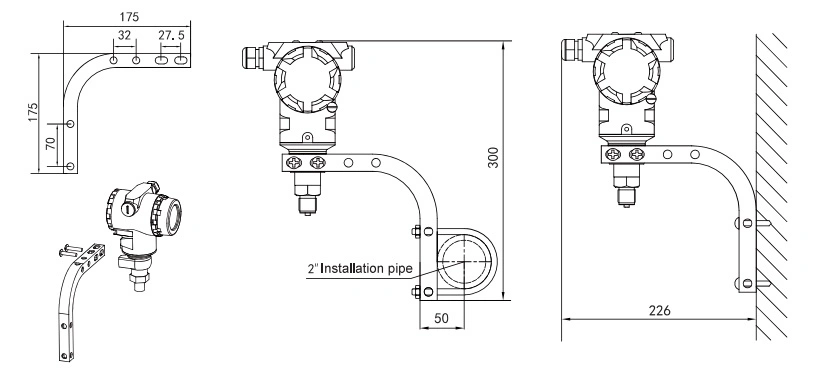 V Selection Guide
Code 1
2
Pressure Type
Gauge Pressure
Code 2
B
C
Accuracy
0.1%F.S
0.25%F.S
Code 3
H
M
W
Output
(4~20)mA & Hart
(4~20)mA & Modbua
Wireless Communication
Code 4
3
4
5
6
7
8
9
0
Measuring Range
(0-1.0~7.5)KPa
(0-0.4~40)KPa
(0-1.86~186)KPa
(0-6.9~690)KPa
(0-0.02~2)MPa
(0-0.069~6.9)MPa
(0-0.2~20)MPa
(0-0.4~40)MPa
Code 5
N
Q
S
M
G
F
R
C
Process Connection
NPT 1/4 Female
NPT 1/2 Female
NPT 1/2 Male(NPT 1/4 Female)
M20*1.5 Male
G1/2 Male
G1/4 Male
Remote
Customize
Code 6
2
3
Isolating diaphragm
316L stainless steel
Hastelloy C
Code 7
N
F
P
O-ring material process flange
Perbunan (NBR)
Viton(FKM)
Telfon
Code 8
0
1
2
Installation bracket
No bracket
Carbon bracket
Stainless steel bracket
Code 9
C
E
Nameplate
Chinese
English
Code
M
d
i
k
p
Option
LCD digital indicator
Flameproof Ex d II C T4~T6
Intrinsical safe Ex ia IIC T4~T6
Oil Probhibition
Stainless steel tag lable
FAQ:
1. Q: Are you manufacturer or trading company?
A: We are A professional manufacturer of Pressure/Temperature sensor, wireless transmitters, gateways, even the total solutions of IIOT for more than 11 years in China. With 4~20mA, Hart, Rs485 & Modbus protocols, pressure sensors with 4~20mA, 0.5~4.5V, UARTand etc, also wireless IOT measurement transmitters. We provide high quality products with high competitive factory price.

2. Q: What's your quality control system?
A: As an ISO9001:2008 certificated manufacturer, we have strict quality control system, and each product is done fatigue testing, calibration, temperature compensation before shipment. High quality is guaranteed.

3. Q: Is there MOQ with your product?
A: We have no MOQ limits, 1pc for testing is acceptable.

4. Q: Do you provide customized products?
A: Yes, we can print your logo on our products; OEM, ODM & customization are welcomed.

5. Q: What is the warranty of your products? And after-sales service?
A: Our warranty time is 12 months after shipment, and our after-sales will respond with your questions in 24hrs, remote instruction by PC network is always available.

6. Q: What is lead time of your product?
A: We are factory, our lead time is always within 10~15 working days for products without customization, but lead time will vary based on different products. You can check detail lead time with our sales.

7. Q: What international certificates do you have for your products?
A: we have gained CE, RoHs certificates, and are in the process of gaining ATEX & UL certificates now.