diesel tank ultrasonic level transmitter water level sensor
Description
Ultrasonic level meter is microprocessor controlled digital level meter. Ultrasonic pulses generated by the
sensor (transducer) emitted in the measurement, the surface acoustic wave after reflection by the liquid
receiving same sensor or an ultrasonic receiver, by a piezoelectric crystal or a magnetostrictive device into an
electrical signal by transmitting and receiving sound waves to calculate the time between the sensor surface to
the distance measured liquid. As a result of non-contact measurement, measured media is almost unlimited,
can be used to measure the height of a variety of liquid and solid materials.
Description
♦ Switch in both Chinese and English, Chinese and English display, simple operation, easy setting
♦ Wide range, the max. range can reach 60m
♦ Humanized design, can be shown distance and level at the same time
♦ By echo gram can determine the cause of the problem
Specifications
Functions


Integrative Type

Split Type

Level Range

Economic Type: 5M, 10M, 12M.

Standard Type: 5M, 10M, 15M, 20M,

30M, 50M.

5M, 10M, 15M, 20M, 30M, 50M, 70M.

Accuracy

0.25%-0.5%F.S

0.25%-0.5%F.S

Blind Zone

0.2-0.6m

0.2-0.6m

Working Pressure

2 Bar (Explore Proof Type is 5 Bar)

2 Bar (Explore Proof Type is 5 Bar)

Resolution

3mm or 0.1%F.S (Max of them)

3mm or 0.1%F.S (Max of them)

Display

English LCD display

English LCD display

Analog output

4-20mA RS485 0-10V
4-20mA RS485 0-10V

Relay /Alarm Output

AC 250V/ 8A;

DC 30V/ 5A;

AC 250V/ 8A;

DC 30V/ 5A;

Power Supply

220VAC+15% 50Hz

24VDC

12VDC

220VAC+15% 50Hz

24VDC 120mA

12VDC

Temperature

Meter : -20~+60°C

Meter -20~+60°C

Communication

RS485 Communications (optional)

RS485 Communications (optional)

Explore Proof

Ex(ia)CT6

Ex(ia)CT6

Water Proof

Economic Type: IP65

Standard Type: IP66

Meter IP65

Sensor IP68

Cable of Sensor

No

Standard: 10 Meters, Max to 200 Meters

Sensor Installation

By level range and model code

By level range and model code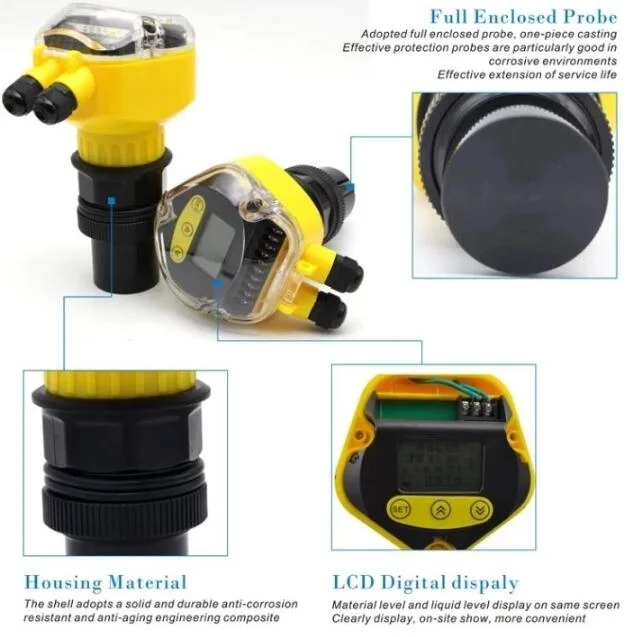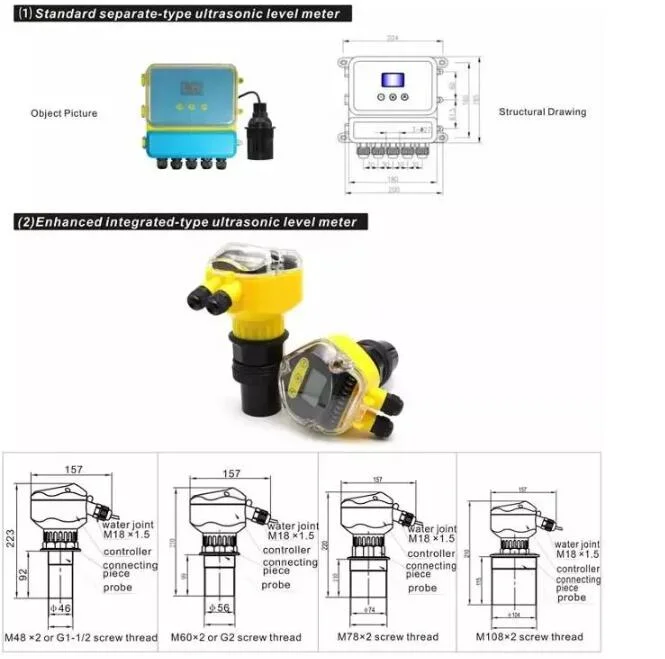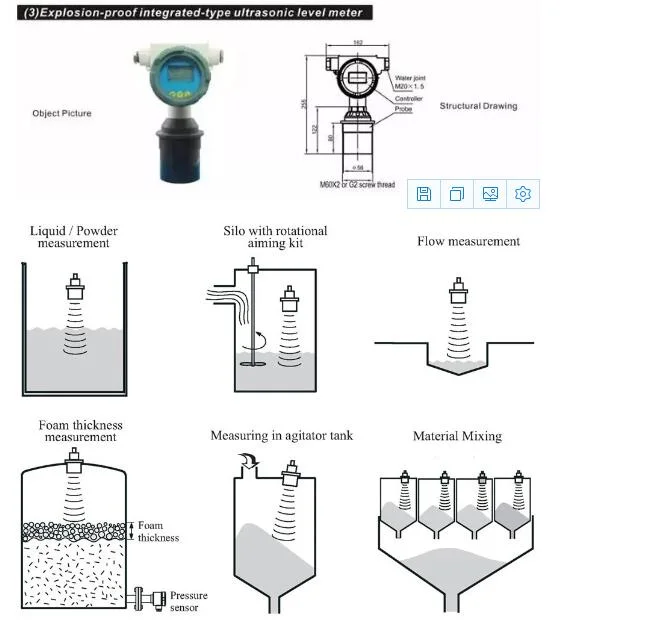 Applications
Water tank level measurement
Fuel tank level measurement
Food tank level measurement
Seal water level measurement
Powder and Solid level application
Sewage and industry wastewater treatment
Oil and Fuel level measurement
Hazardous zone level measurement
Oil tanker, small fuel tank level measurement
Other distance and level application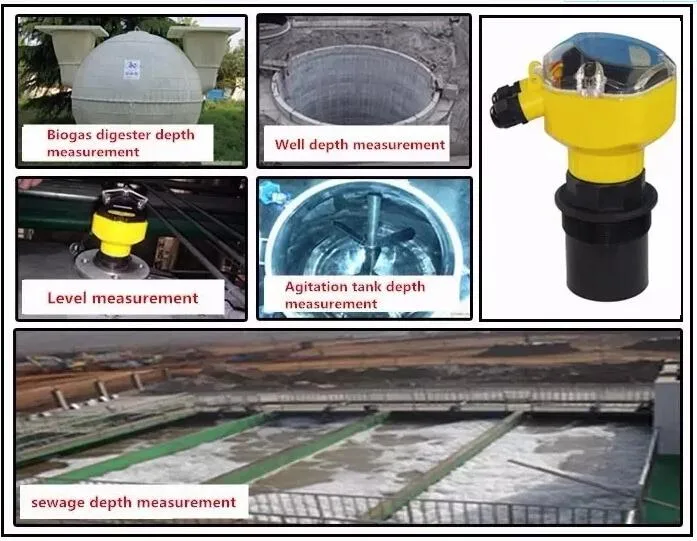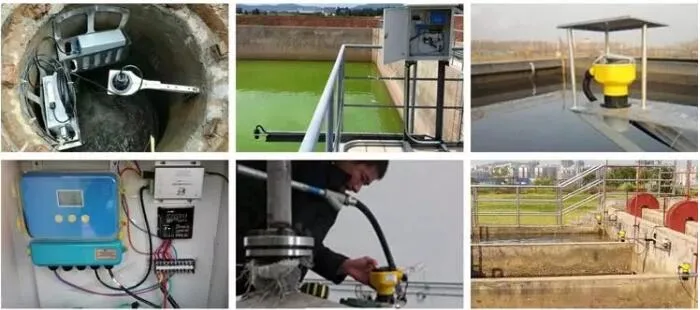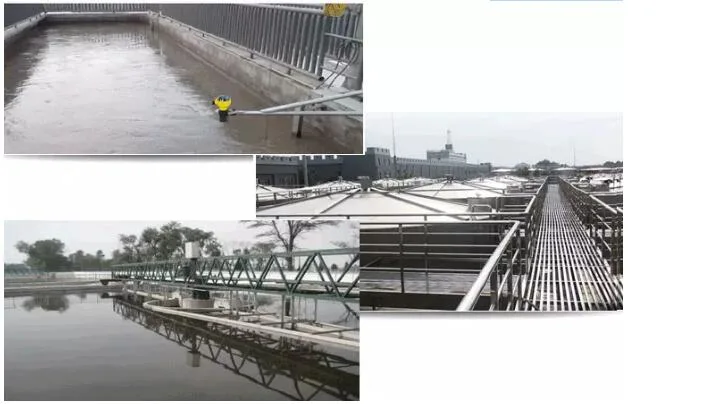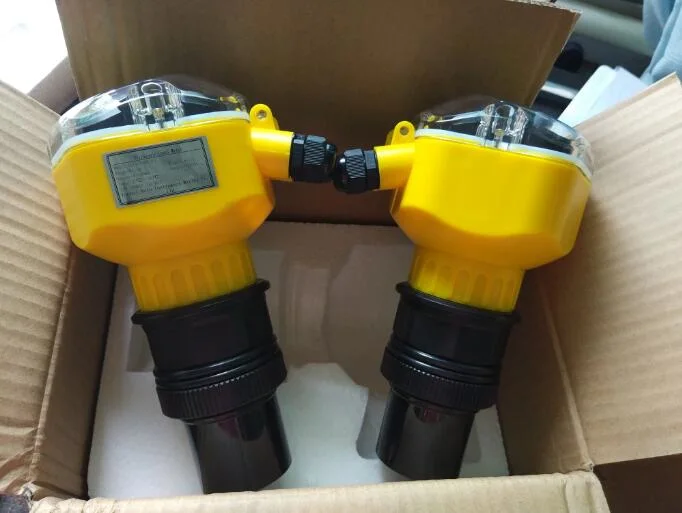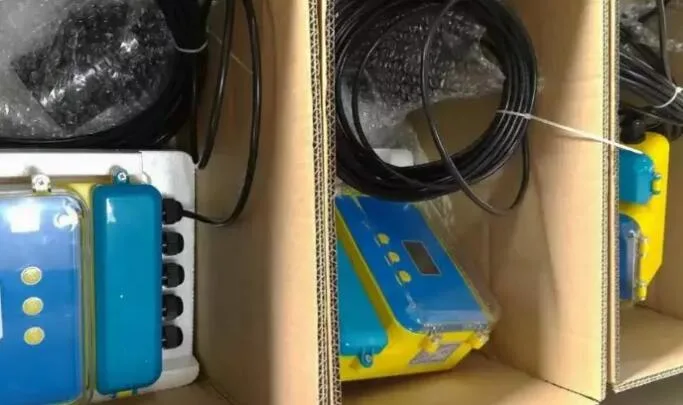 diesel tank ultrasonic level transmitter water level sensor