UE3005 6cm Blind Zone Small Ultrasonic Distance Level Transmitter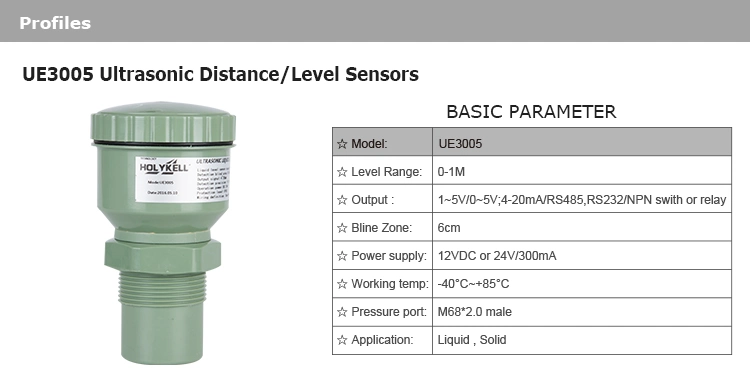 Ultrasonic level sensor Shell is made of solid texture and good NLEPF acoustic characteristics of synthetic material. The body is shape sophisticated aesthetics, waterproof, dustproof, and can adapt to the most of working conditions on site. On liquid cans, the walls, or equipment arm movement, it's easy to install the UE3001 ultrasonic transmitter. There is no need of such tools as gongs nails, as long as there is a M49 × 1.5 gongs hole. A very quick and easy installation, maintenance can be realized.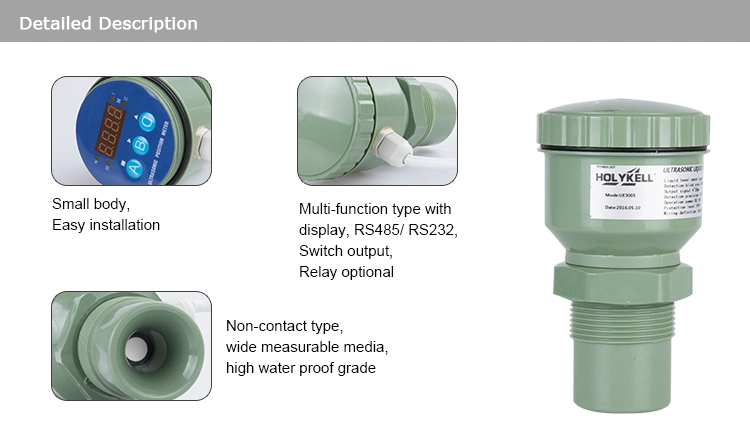 Why Choose Our Ultrasonic Level Sensor?
1.Support M49*1.5 mm threaded into type installation and coil clamping type installation,
the installation more convenient
2.Many model output optional customizable 4-20ma three-wire system, 1-5v, RS485 more customizable
3.Less than 9°C Beam angle design ,Resolution 3mm, less than 200ms responsible time
to make sure more accuracy
4.Wide range of application,Sealed high-temperature toxic volatile,flammable and explosive of strongly corrosive liquid medium level measurement of non-contact ultrasonic sensors
5.Housing adopts the NLEPE synthetic material
IP66 waterproof,Anti-Skid,Anti-corrosion,Anti-explosion structure
6.More Human More Convenient,NON-Contact Type,more cleaning and health
M78*1.2mm Thread or coil clamping installed
7.OEM ODM Service
What's the Specification Our Ultrasonic Level Transducer?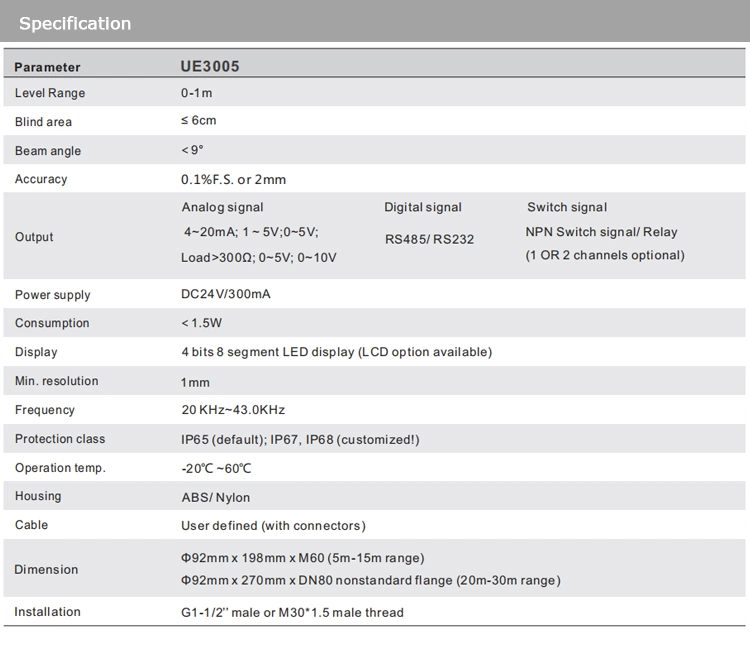 What's the Application Our Ultrasonic Level Sensor?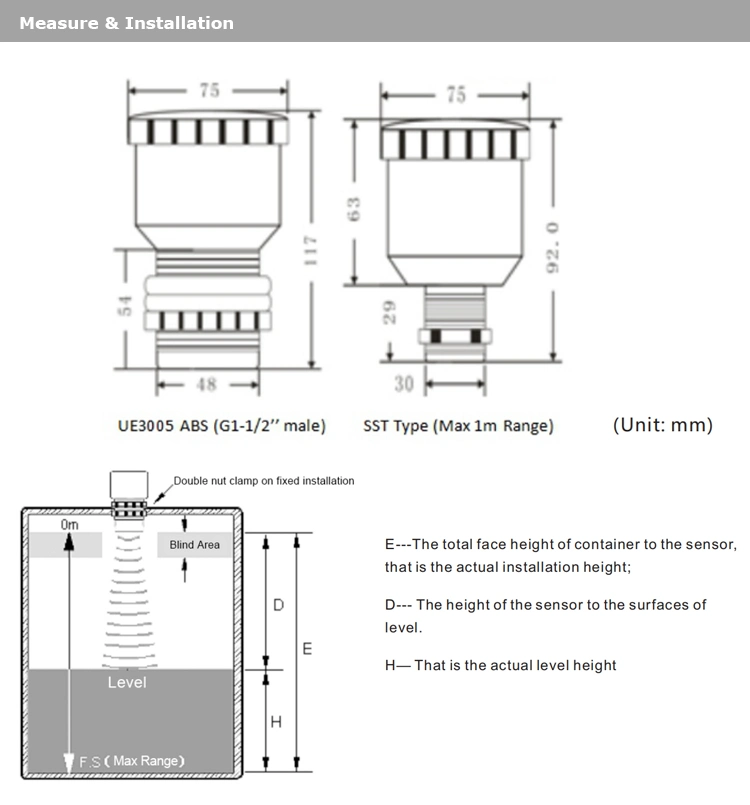 The fastest reply: Please feel free to contact us if you have any questions.
You will get a reply from the professional and experienced trade manager within 24 hours.
If our trade manager is off line, please leave a message, and tell us the product model you need and your E-mail address.
Quality assurance: good quality is assured by advanced manufacturing technology.
And all products are through strict test by our professional QC team before shipping.
Door to door service: We usually send the parcel by DHL, EMS and TNT etc.
The tracking number will be sent to you after delivery. It usually takes 3~5 working days to reach from from our side to your side, which is very convenient for your business
Company Information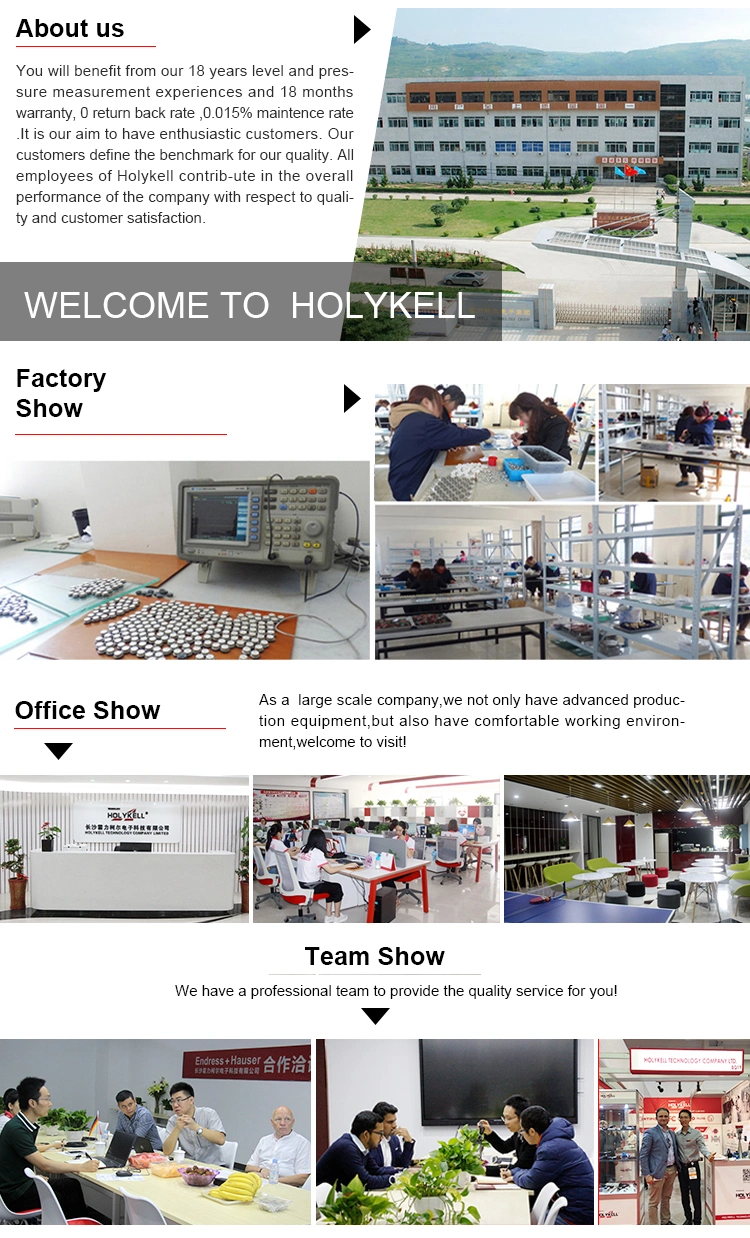 FAQ
Q: Which kind of liquid can be measured ?
A: Holykell suggestion
1.make sure medium of purity
2.Not full of dense gas in the liquid
3.Be suspended in the liquid solid such as crystal
4.At the bottom of the container can't deposit large amounts of sediment and sediment
5.Medium viscosity<10mPa.s Normal measurement
10mPa.s
Dynamic viscosity>30mPa.s cannot measure