Why choose us:
1. 23 years of instrumentation equipment production experience
2. Product support OEM / ODM, export to more than 100 countries
3. The company area 20,000 square meters, and 150+ orders per month
4. Provide email, skype, whatsapp provide 24-hour one-on-one technical support service online
Product Description
Radar Level Meter can measure the distance, level and volume of liquid, sticky,solid.Application in electric power,metallurgy, petroleum, shemical, food, medication, water, civic industry. They can work in high tempreture, high pressure, corrosion, dusty environment.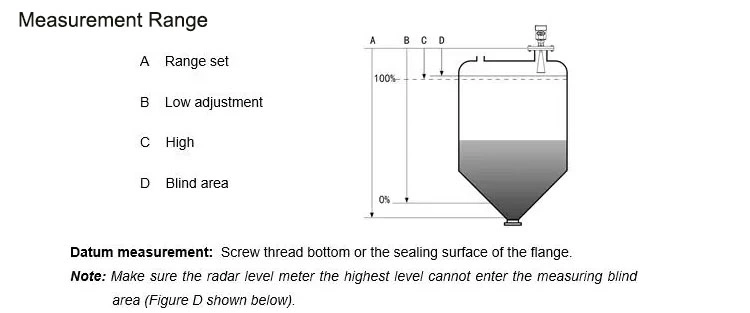 Features:
1.Small antenna size, easy to install; Non-contact radar, no wear, no pollution.
2.Almost no corrosion, bubble effect; almost not affected by water vapor in the atmosphere, the temperature and pressure changes.
3.Serious dust environment on the high level meter work has little effect.
4.A shorter wavelength, the reflection of solid surface inclination is better.
5.Beam angle is small, the energy is concentrated, can enhance the ability of echo and to avoid interference.
6.The measuring range is smaller, for a measurement will yield good results.
7.High signal-to-noise ratio, the level fluctuation state can obtain better performance.
8.High frequency, measurement of solid and low dielectric constant of the best choice.

Product Parameters
| | |
| --- | --- |
| Measuring range | 70 meters |
| Process connection | thread, flange |
| Medium temperature | -40 °C ~ 150 °C |
| Process pressure | 0.1 ~ 4.0MPa |
| Accuracy | ± 3mm |
| Protection grade | IP67 |
| Frequency range | 6GHz, 26GHz |
| Explosion-proof grade | Exia CT6 Ga, Exib CT6 Gb |
| Signal output | 4-20mA/HART (two / four), RS485/ Mod bus |
| Type | guided wave radar, intelligent radar, 26 GH high frequency radar |
Product show and Installation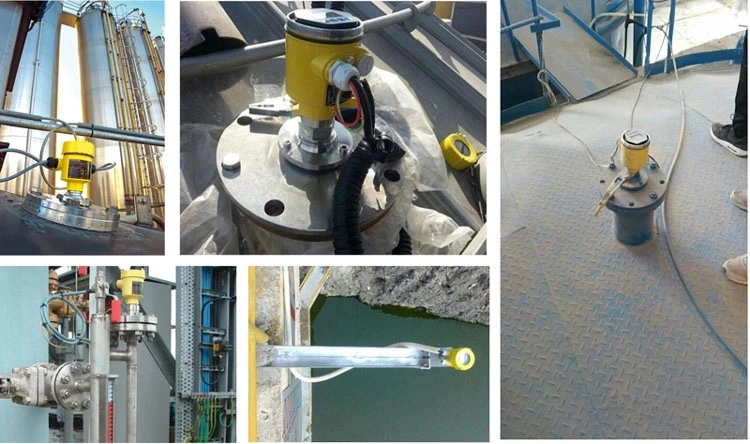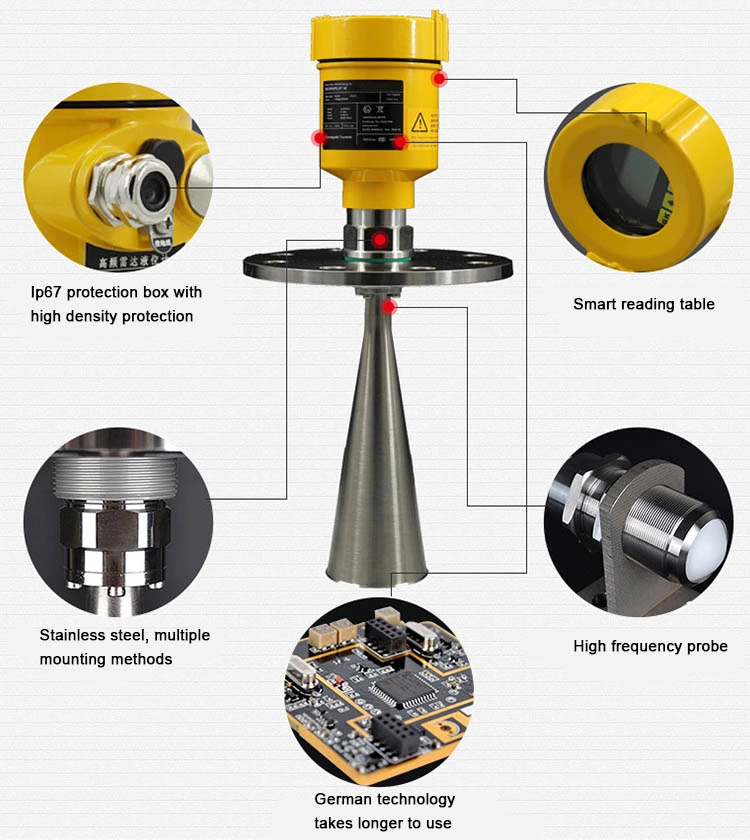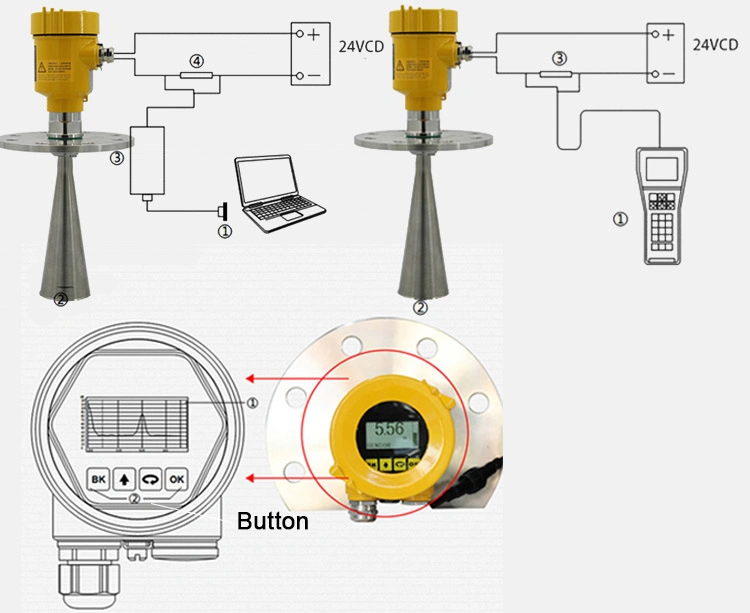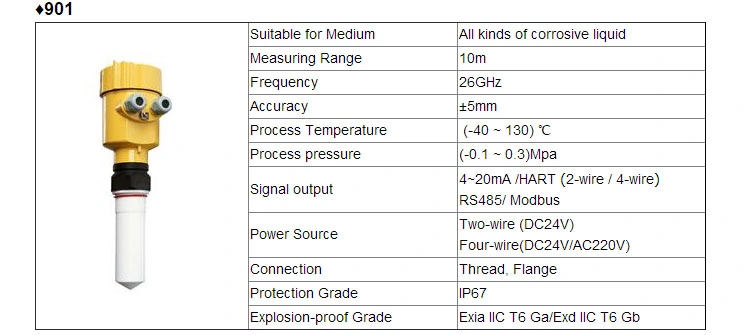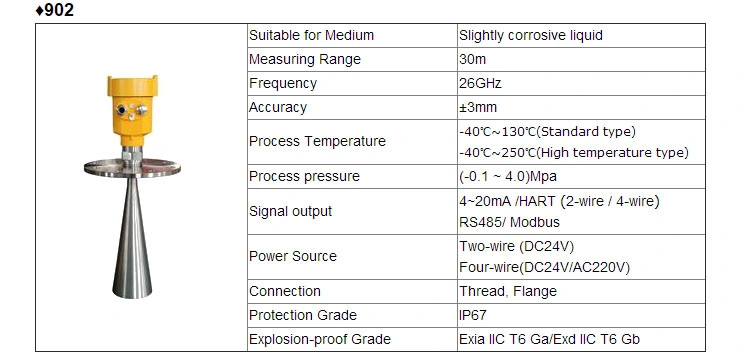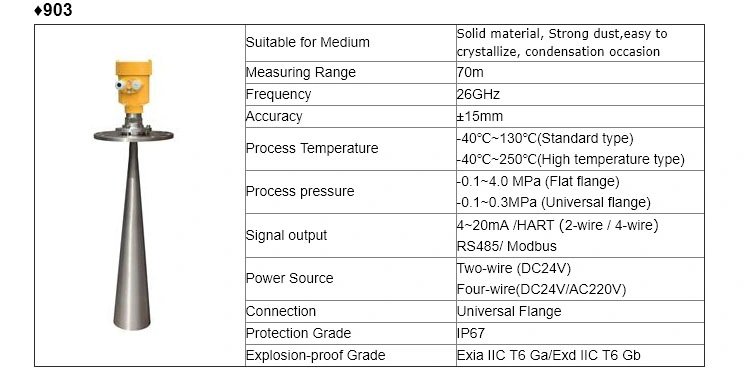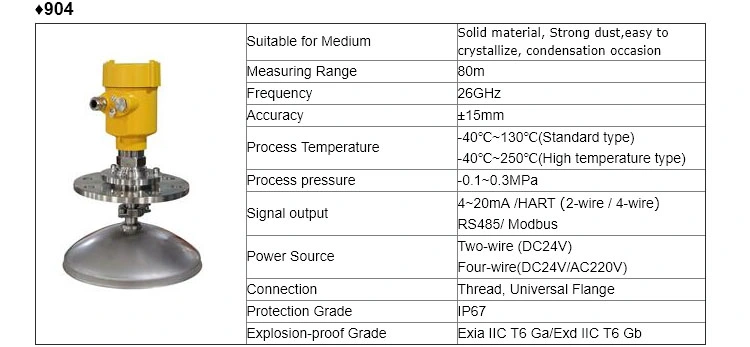 Company Information